MSNBC Suspends Political Analyst Mark Halperin For Calling President Obama 'A D*ck' On Live TV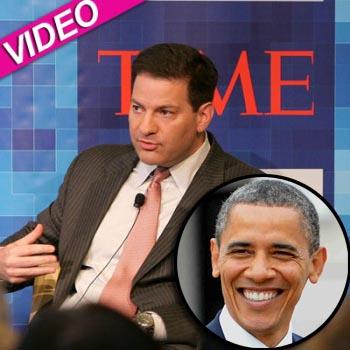 By Cliff Renfrew - RadarOnline.com Reporter
Time Magazine's Editor-At-Large Mark Halperin is coming under increasing flak after he called President Obama 'a d*ck' Thursday on a popular MSNBC show.
Halperin -- who is a senior political analyst for MSNBC -- said on Morning Joe: "I thought he was a d*ck yesterday."
Host Joe Scarborough tried to prevent the gaff from being boadcast when he could be heard saying "Delay that. Delay that. What are you doing? I can't believe… don't do that. Did we delay that?"
Article continues below advertisement
Halperin quickly tried to back-track from his offensive remark by telling viewers: "Joking aside, this is an absolute apology. I shouldn't have said it. I apologize to the president and the viewers who heard me say that."
Scarborough added that they were going to have a meeting immediately after the show and that there had been a mis-hap with the seven seconds delay button.
Apparently a new producer did not know how the delay worked.
"You are supposed to know how to do the job," Scarborough said of his producer.
"I would tell you what I think of him, but he doesn't know what button to push."
Later in the show, Halperin again apologized, saying: "I can't explain why I did it. It's inappropriate, disrespectful. I've already apologized, and I will again to the President.
Anthony Weiner To Undergo 'Intensive' Rehab To Try And Save Marriage
Article continues below advertisement
"I'm sorry, I'm sorry to the viewers…It is disrespectful, what I said was disrespectful to the president and the office but it also lowers our discourse."
He also tweeted to his followers: "I want to offer a heartfelt and profound apology to the President and the viewers of Morning Joe. My remark was not funny. I deeply regret it."
MSNBC later released this statement: "Mark Halperin's comments this morning were completely inappropriate and unacceptable. We apologize to the President, The White House and all of our viewers.
Watch the video on Radaronline.com
"We strive for a high level of discourse and comments like these have no place on our air. Therefore, Mark will be suspended indefinitely from his role as an analyst."
Halperin followed up with this statement: "I completely agree with everything in MSNBC's statement about my remark. I believe that the step they are taking in response is totally appropriate.
"Again, I want to offer a heartfelt and profound apology to the President, to my MSNBC colleagues, and to the viewers. My remark was unacceptable, and I deeply regret it."