Exclusive
'Tracy Morgan Should Apologize Immediately' Demand Advocacy Group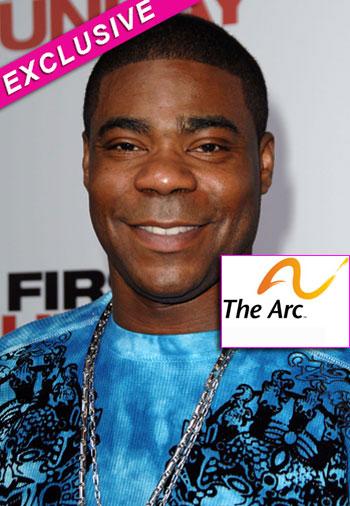 Tracy Morgan can add another enemy to his list -- this time, it's an intellectual and developmental disability advocacy group who demand that the controversial comedian "should apologize immediately.
"This quote is far too offensive to be excused as comedy and it is very hurtful to people with intellectual and developmental disabilities and their families," says Peter Berns, CEO of The Arc. "Mr. Morgan has an incredibly powerful platform from which to fix this, and if he's learned anything in the last few weeks, he can't bomb this apology."
Article continues below advertisement
Just weeks after apologizing to the LGBT community for his homophobic comments at a comedy performance in Nashville, Morgan went off on another rant aimed this time at those that are mentally and physically challenged.
"Don't ever mess with women who have retarded kids," Morgan, 42, said Saturday while performing in New York City. "Them young retarded males is strong. They're strong like chimps."
Tracy didn't stop there. He told a story about a girl he once dated and referred to her as "a cripple" with a prosthetic arm, a mechanical larynx and a portable dialysis machine.
Calls and emails to Tracy's rep were not immediately returned.
Tracy Morgan Making Amends With Gay Community - See The Photos
Following Morgan's homophobic rant he quickly recanted and issued an apology, in addition he visited LGTB youth and those affected by bullying and violence and also agreed to tape a number of PSAs for advocacy group GLAAD.