Offended Gay Audience Member Accepts Tracy Morgan's Apology; Says He Shouldn't Be Fired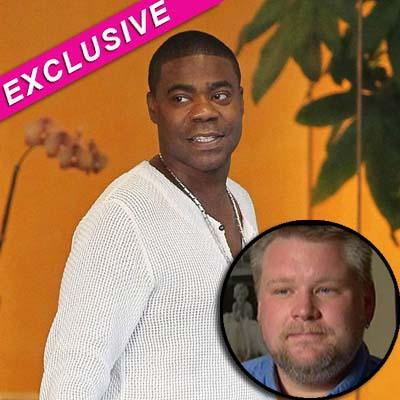 Kevin Rogers -- the Nashville, TN man who penned a Facebook post titled "Why I No Longer 'Like' Tracy Morgan –A Must Read" says he does accept the 30 Rock star's apology for his anti-gay rant that set off a firestorm of controversy; he also says he shouldn't lose his job over it.
Rogers, his partner and a friend, attended Morgan's standup show at the Ryman Auditorium in Nashville on Friday, June 3 during which the comedian went on a vile homophobic tirade.
Article continues below advertisement
Rogers said he was shocked by Morgan's comments, which included remarks that homosexuality is a choice and that if his own son were to tell him he was gay, he would stab him to death. Rogers later recapped Morgan's anti-gay rant in a post on Facebook.
Within hours of the story breaking last week, Morgan was blasted by not only gay rights groups, but also by NBC and 30 Rock star/creator Tina Fey.
Morgan quickly issued an apology and later announced that he was planning on traveling to Nashville to meet with those he offended.
RadarOnline.com corresponded with Rogers via email Tuesday to get his reaction to Morgan's mea culpa.
RadarOnline.com: Tracy Morgan says he plans to travel to Nashville to meet with those he offended. Do you plan to meet with him?
Kevin: You know as much about him coming back to Nashville as I do, so at this point I can't answer that.
RadarOnline.com: If you do meet with Morgan, what would you tell him?
Kevin: That I hope he understands that his words have consequences and there is a difference between joking and ranting.
Article continues below advertisement
RadarOnline.com: Do you accept his apology?
Kevin: He appears to be genuine in his actions to this point past the apology. His words had meaning that night and the words from his apology have meaning as well. Hopefully one was not to be taken at face value and the other to be.
RadarOnline.com: What did you think of NBC's and 30 Rock star/creator Tina Fey's response?
Kevin: I appreciate their response and fell that Tina Fey was sincere in that response and am glad to know this is not the Tracy Morgan she knows.