VIDEO: TNT Sorry For Tracy Morgan's Sarah Palin Lewd Gag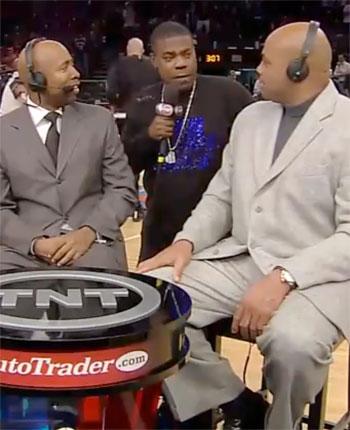 Trash-talking comedian Tracy Morgan caused a court-side controversy when he described former Alaska Governor Sarah Palin as "good masturbation material" during an interview on Thursday's Inside The NBA pre-game show.
RadarOnline.com has video of the controversial appearance.
The 30 Rock star stole the spotlight from hosts Charles Barkley and Kenny Smith when asked by Smith to choose between Tina Fey and Sarah Palin.
Article continues below advertisement
"Me and him have this argument all the time and you're the only one who can settle it - Tina Fey or Sarah Palin?" asked the former basketball star, while wise-cracking side-kick Barkley followed up with: "Sarah Palin's good looking isn't she?"
"Absolutely!" replied Morgan.
"Let me tell you something about Sarah Palin, she's good masturbation material. With the glasses and all that, great masturbation material."
30 Rock Star Recovering After Kidney Transplant
Morgan's X-rated reply had Smith and Barkley in hysterics but studio bosses weren't as amused.
He was quickly pulled from the camera and TNT later issued a statement saying, "It's unfortunate Mr. Morgan showed a lack of judgment on our air with his inappropriate comments. We apologize for any embarrassment or offense it may have caused."