'30 Rock' Star Tracy Morgan Recovering After Kidney Transplant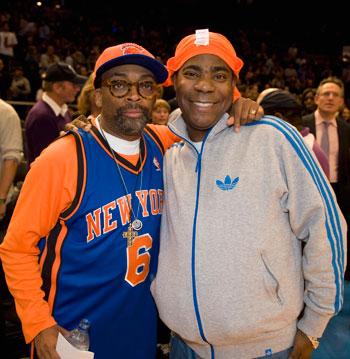 Fans of the hit TV show 30 Rock will notice that star Tracy Morgan will be missing from a few episodes in March 2011.
The 42-year-old actor and comedian is recovering from a kidney transplant he underwent on December 10, and as a result, Morgan had to be written out of the show for a few episodes.
Tracy Morgan Decides Not To Be Funny - Files For Divorce
But not to fear - a rep for the actor tells RadarOnline.com: "Tracy is doing well and taking some much needed time to recover after the surgery. He is looking forward to going back to work after the holidays."
Article continues below advertisement
Morgan is recovering so well, in fact, he was even spotted at a New York Knicks basketball game on December 17 – just one week after his surgery!
Executive writer/producer Tina Fey and her team of writers will explain Tracy's absence on the show by claiming he has a meltdown because of a good thing that happens to him.
It's no secret that Tracy has been battling diabetes for years, but didn't take it seriously immediately.
"Then one day I got really sick," the actor said in an interview with website, That's Fit last year. "The doctor was like, `Hey, listen, we may have to take your foot.' That was it for me. Now I take my insulin every day. My blood sugar doesn't get over 120."
He also started dieting in an effort to lose weight and get healthy again.
"Right now, I'm on Nutrisystem and I love it," he said. But his son, Tracy Morgan Jr., says the rest of the family still indulges.
Article continues below advertisement
"We eat a lot of soul food," says the 23-year-old. "Collard greens, steak, chicken patties. You know, normal food!"
And Tracy admits that he has a very hard time saying no to certain foods, especially when he's on the road.
"Hot dogs, hamburgers, cheeseburgers - I cheat," he admitted. "I have to catch myself."
Tracy isn't the first member of the 30 Rock cast to undergo a kidney transplant: Grizz Chapman, who plays Tracy's bodyguard/assistant on the show, had the surgery earlier this year.