Exclusive
Tracy Morgan Reveals His Father Died Of AIDS -- Admits 'I was Bullied At School'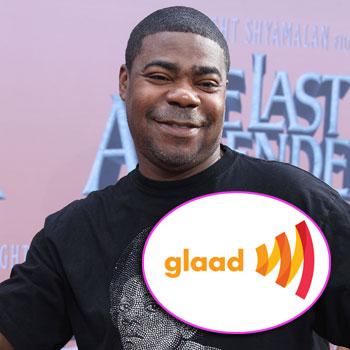 Repentant comedian, Tracy Morgan is continuing in his attempt to make amends for his shocking homophobic rant on Friday during a comedy routine in Nashville, TN.
The 30 Rock star spoke with GLAAD on Monday to announce several steps he will be taking to redeem himself, and also confessed that he was a victim of bullying himself as a child.
"I know how bad bullying can hurt," Morgan said. "I was bullied when I was a kid. I'm sorry for what I said. I didn't mean it. I never want to use my comedy to hurt anyone. My family knew what it was like to feel different. My brother was disabled and I lost my father to AIDS in 1987.
Article continues below advertisement
"My dad wasn't gay but I also learned about homophobia then because of how people treated people who were sick with that. Parents should support and love their kids no matter what. Gay people deserve the same right to be happy in this country as everyone else.
"Our laws should support that. I hope that my fans gay, straight, whatever forgive and I hope my family forgives me for this."
Morgan announced that he will be meeting this week with LGBT teens who were shunned or left homeless by their parents as well as parents who lost their children to anti-LGBT hate crimes.
Then next week Morgan will return to Tennessee with GLAAD and hip hop mogul, Russell Simmons, to meet with those offended by his remarks and make a public statement about how he supports LGBT people.
Simmons, a longtime friend of Tracy's told GLAAD: "In the years that I have known Tracy, I've only ever known him to want to make people happy. This experience might be a blessing. The amount of pain he caused has resulted in a new sensitivity for him that he can now use to bridge communities.
Article continues below advertisement
"I'm proud to be a straight American who spends time advocating for the LGBT community and for marriage equality. I'm happy to have another ally in Tracy. People like Tracy Morgan need to speak out against homophobia and I hope more leaders within the black community and everywhere speak out in support for marriage equality like he has."
In addition, Tracy has announced that he will film a PSA as part of GLAAD's upcoming 'Amplify Your Voice' PSA campaign.
"By not only apologizing, but sending a message of support for gay and transgender people, Tracy will help many realize that no one should be treated differently or subjected to violence," said GLAAD President Jarrett Barrios. "It is so important that Americans hear from allies like him as well as gay and transgender youth shunned by their families and parents who have lost their only children to anti-gay violence. We look forward to working with him on spreading this message to Americans."