Michele Bachmann On 'Crazy Eyes' Newsweek Cover: 'It Really Didn't Impact Me That Much'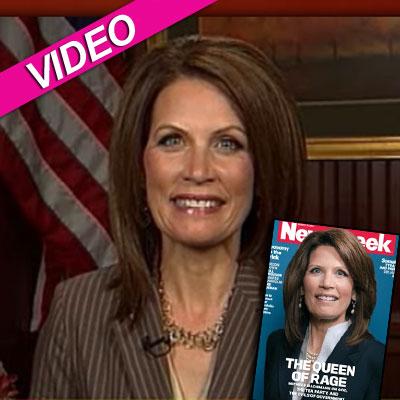 Republican presidential candidate Michele Bachmann did her best to deflect questions Friday about that so-called "crazy eyes" Newsweek cover that some say depicts her in an extremely unflattering light.
Bachmann -- appearing on The Today Show via satellite from Des Moines, Iowa -- was asked about the cover by fill-in host Lester Holt during an interview that covered a broad number of topics.
Article continues below advertisement
When pressed by Holt, Bachmann would only say: "It really didn't impact me that much." She then changed the subject to the stock market plunge and Standard & Poors downgrade.
"A magazine photo is not even a factor in the midst of all that," she said.
Watch The Video On Radaronline.com
Holt gave it one more shot, asking if "rage" was an appropriate word to describe her. "No, not at all. I'm a very happy person," Bachmann replied.