Exclusive
Michele Bachmann Confuses Elvis' Birthday With Day Of Death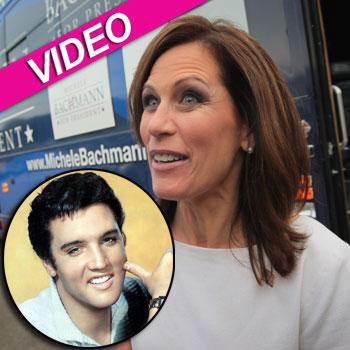 - RadarOnline.com Senior Reporter
Michele Bachmann is known for her accidental gaffs and on-camera flubs, and once again she made a big mistake on the campaign trail, confusing Elvis' birthday with the day of his death and RadarOnline.com has the video.
"Before we get started, let's all say 'Happy Birthday' to Elvis Presley today," Bachmann said at the beginning of her stump speech in South Carolina. "We played you a little bit of Promised Land when we pulled-up. You can't do better than Elvis Presley."
Article continues below advertisement
Problem is, today isn't Elvis' birthday. It's the 34th anniversary of his death. Oops.
Elvis Aaron Presley was born on January 8, 1935. The King of Rock and Roll died on August 16, 1977.
Bachmann, the republican presidential candidate is famous for making factual, pop culture and historical gaffes in her speeches and interviews.
She previously confused the hometown of Waterloo, Iowa, claiming screen legend John Wayne was from there when in fact it was serial killer John Wayne Gacy who lived in the town.