Girl Who 'Spilled' Yogurt On President Explains Embarrassing Incident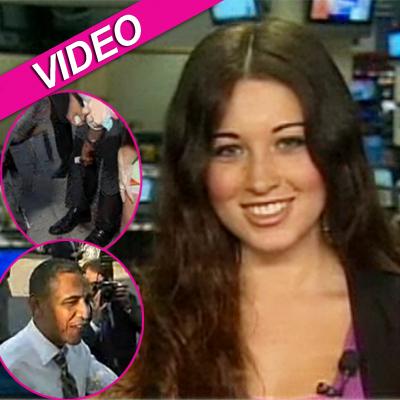 Kolbi Zerbest's got a tale to tell the grandkids someday.
The University of Colorado freshman, 19, 'spilled' yogurt on President Barack Obama and secret service members during a campaign stop at a restaurant in Boulder Tuesday, and appeared on The Today Show on Wednesday to discuss her once-in-a-lifetime gaffe.
When she made the miscue, the president was a good sport about things, telling her, "Oh, look it, you got me. You got me."
Article continues below advertisement
Kolbi owned up and apologized, though the president made no big deal of it, saying, "I'm teasing. That's okay … getting yogurt on the president, you've got a story to tell."
Kolbi said she was waiting patiently to see the president when the "paparazzi came rushing behind us.
"As I'm shaking his hand, the paparazzi kicks the bowl that I had placed on the ground onto the president. And it was mine, so, obviously I took the blame for it," she said. "Technically it was my fault that I'd placed it there. But, I mean, I'm not one who spilled it on him or kicked it on him, as some of the stories have been told."
Kolbi said "it was pretty exciting being able to talk to him for a minute or two" adding a lot more yogurt got on her, the secret service members and the ground than the commander-in-chief.
Watch the video on RadarOnline.com
"All in all," she said, "I'd say it was a pretty eventful and pretty memorable day for me."
Visit msnbc.com for breaking news, world news, and news about the economy
RELATED STORIES: