Exclusive
Lindsay Lohan's Camp Slams Rosie For Criticizing Her Playing Liz Taylor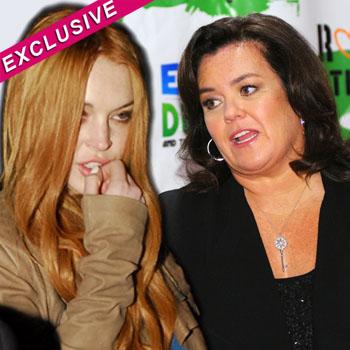 RadarOnline.com Assistant Managing Editor
Lindsay Lohan's camp is slamming Rosie O'Donnell for saying the Mean Girls star should NOT be playing the late screen icon Elizabeth Taylor in a new biopic for Lifetime Television, RadarOnline.com is exclusively reporting.
As we previously reported, during a new roundtable panel segment on Tuesday's Today show featuring O'Donnell, TV pundit Donny Deutsch and Star Jones, host Matt Lauer brought up the topic of Lohan playing the Oscar winning actress in the upcoming television movie Liz and Dick, a movie based on Taylor's legendary romance with Richard Burton.
Article continues below advertisement
"I feel very sorry for her," said O'Donnell. "I think she needs a lot of time away. ... She's had a lot of trouble doing every single movie, including SNL. She was out and not in rehearsal. I think she's not in a place to work."
Lohan's rep Steve Honig tells RadarOnline.com exclusively, "I think Rosie should focus on her own career and stop worrying about everyone else's. It's hard to take these comments seriously considering they are coming from someone who just had her own talk show cancelled, but I guess she has to find a way to stay in the news, even if it is at the expense of someone else."
During the segment, Star Jones echoed Rosie's sentiment, saying Lohan was very talented but she hadn't seen enough of her work as an actress to pass judgment, prompting Deutsch to add, "She's our generation's Elizabeth Taylor!"
Deutsch's ringing endorsement of LiLo's acting abilities set off the outspoken former talk show host.
"You're out of your mind! You're a crackhead! The last thing she did good she was sixteen," O'Donnell snapped.
Article continues below advertisement
Deutsch didn't back down, prompting O'Donnell to add: "I don't think she's right for the role and I don't think she's capable at this point to portray that character."
Production on Liz & Dick is set to begin in early June in Los Angeles.
As RadarOnline.com previously reported, filming was expected to take place in Canada, but due to Lindsay's ongoing legal woes, production will be done in Southern California.