Keith Olbermann Erupts Over Jimmy Kimmel White House Dinner Slam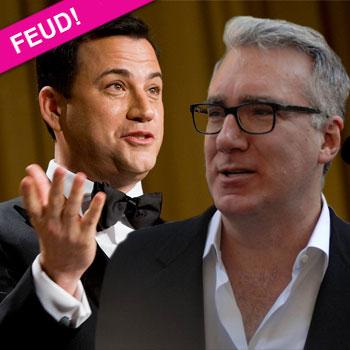 There's one person who definitely isn't laughing at Jimmy Kimmel's routine from the White House Correspondents' Dinner last night.
Keith Olbermann, who wasn't in the A- List crowd, took off like a shot on Twitter Sunday, going after Kimmel for going after him.
The offending part of Kimmel's monologue? "I'd like everyone to look under your seats. Under each one you will find a copy of Keith Olbermann's resume. Is Keith here tonight? Limo wouldn't pick him up? The thing about Keith Olbermann is he's so likable," Kimmel joked about the former MSNBC and Current TV host.
Article continues below advertisement
But Kimmel wasn't done yet: "Keith Olbermann burned more bridges than the Arsonist of Madison County," Kimmel said without missing a beat.
Olbermann couldn't let it slide.
Claiming Kimmel was just out for "revenge," Olbermann tweeted "Funny that Jimmy Kimmel ripped me after his people desperately wanted me to fly to LA to be on his show this past Wednesday."
Olbermann, as RadarOnline.com has reported, and his bosses at Current TV, including Al Gore, are now suing each other over his recent firing.