Jimmy Kimmel Skewers President Obama And The Secret Service At White House Dinner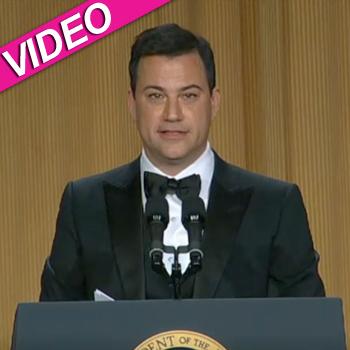 Jimmy Kimmel scored a hit with his monologue at Saturday's White House Correspondents' Association Dinner, skewering the Secret Service and even President Barack Obama.
The late night host went after the Secret Service and its prostitution scandal, and when the CNN cameras showed a few of the guards standing near the dais, they definitely didn't crack a smile.
"I do have a lot of jokes about the Secret Service," Kimmel said. "I told them for $800 I wouldn't tell them, but they only offered $30."
Article continues below advertisement
He wasn't any easier on the President, reminding him "when the country rallied around you in the hope of a better tomorrow? That was hilarious."
President Barack Obama & Jimmy Fallon Slow Jam The News
He even suggested that if the Prez didn't want to listen to his jokes, he could cover his ears "if that's physically possible." Nobody laughed harder at that one than Michelle Obama. The First Lady was almost doubled over in laughter.