Keith Olbermann Accused Of Mug-Smashing Incident In Current TV Newsroom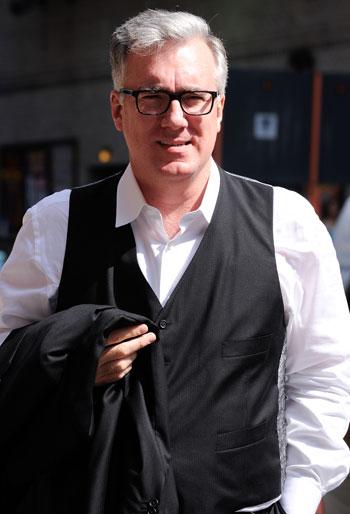 On the very day Keith Olbermann filed his breach of contract lawsuit against his former bosses at Current TV, accusations surfaced that the controversial host once threw a mug in the newsroom, smashing it and sending glass flying.
In an email obtained by The Daily Beast, an unnamed staffer recounted the chilling event in great detail.
READ OLBERMANN'S LAWSUIT HERE
"As I know you are aware," the staffer wrote, "Keith created a potentially dangerous situation last night when he threw with full force a glass mug at the set hitting a solid part of it that caused the mug to shatter. I know this was caused by the satellite time ending before the interview was over but had the broken glass hit someone in the studio, this could have caused injury and potentially having to bring in EMTs to help the injured person. In addition, the spill left from the fluid (I assume water) could have caused someone toslip, which is also a dangerous condition.
Article continues below advertisement
"I don't know if Keith has been spoken to about such acts and I certainly understand how difficult such a conversation can be with him. However, throwing things in the studio is not acceptable as it creates a potentially dangerous situation for anyone in the studio at that time.
"Please let me know if this has been addressed with him," the email concluded.
Olbermann was fired last month from the struggling cable network co-founded by former VP Al Gore. He then went on the offensive on Twitter and The Late Show with David Letterman before filing his suit.