Jaleel White Denies Assaulting Baby Mama: 'It's Absolutely Ridiculous'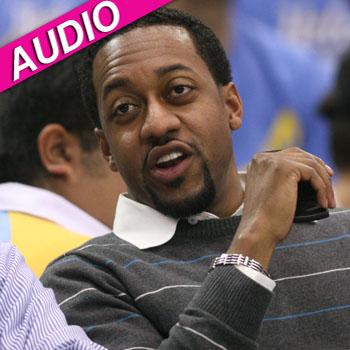 Article continues below advertisement
"It's absolutely ridiculous! I didn't know how big this show was…I didn't know that the M.O. of this show was to turn it into a soap opera, make up stuff, roll with it. Baby mamas come out of the woodwork," Jaleel told Seattle's Star 101.5 on Wednesday.
"I haven't heard from the mother of my child in the last five months. Boom, now all of a sudden I'm getting letters from attorneys and stuff. It's absolutely ridiculous. Like I said, the dancing part has actually become the easy part!"
Listen To The Audio At RadarOnline.com
As RadarOnline.com first reported, Bridget gave an exclusive interview to Star magazine detailing the abuse she suffered at the hands of Jaleel.
"He hit me across the chest area," she says. "Verbally and emotionally, he's abusive. He told me I'm not working; I have no money; I'm white trash. None of it was true."
Bridget even says Jaleel went so far as to try and hide the fact that they were having a baby together in an effort to maintain his Playboy image.
Article continues below advertisement
"Even when we had friends over he wanted me to hide all the baby stuff because he didn't want anyone to know we had a child together," she says.
"Someone even invited us to go to Michael Jackson's funeral and he didn't take me because I was seven months pregnant. He still wanted to maintain that playboy image."
While Jaleel was never charged with any assault towards Bridget, she still claims the abuse happened.
"He pushed me into the toilet, and it broke. Water went everywhere, through the walls and even to the kitchen downstairs," Bridget says.
But Jaleel won't answer to her claims and says he's just staying focused on the task at hand — dancing.
"Your natural reaction is to defend yourself and come right out and, you want to point fingers at people, line up people who work with you places and be like, who did it?" he says.
Article continues below advertisement
"You have to take the high road and just focus on the task, and the task is dancing."
Jack Wagner and Martina Navratilova were the first to be eliminated from the hit ABC show and Jaleel joked that maybe they're the culprits.
"I don't mean to crack too hard of a joke, but maybe they need to talk to some people that got bounced!" he said.
"Thank God next week is rock week so I get to do my black man Mick Jagger and move on!"