Jaleel White 'Out Of Line' Berating Dance Partner Kym Johnson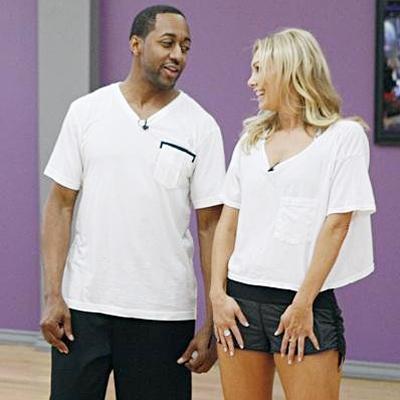 There's plenty of chemistry between Jaleel White and his Dancing with the Stars partner Kym Johnson -- too bad none of it's good!
Backing up this week's Star magazine report the former Family Matters star is "a huge jerk" to his pro partner, the former Steve Urkel reportedly lashed out at the twinkle-toed beauty while they were rehearsing last week, as he felt she was playing up the pain she was in after he stepped on her foot in rehearsals.
Article continues below advertisement
One observer told People White's outburst was "way out of line," noting his rage "didn't have anything to do with Kym or her foot -- he was just stressed out and ready to snap."
The observer added that dancer Mark Ballas and contestant Donald Driver "wound up having words with White, mostly trying to get him to realize that he needed to just get a grip already."
The 35-year-old former child star -- calling the incident "completely exaggerated" -- said the supposed bad blood is just the media trying to stir up a good story.
"We go to work every day, and there is an alley full of tabloid reporters," he told the magazine. "I'm not used to all this tabloid stuff ... It's not fair to us and that's life, and I hope people can see through it.
"There's no drama in my life."
No drama Jaleel? Not if you read Star's other report last week, in which your baby mama Bridget Hardy claimed you not only cheated on her, but hit her "across the chest area" and pushed her into a toilet so hard it broke.
Article continues below advertisement
"Verbally and emotionally, he's abusive," Hardy exclusively told Star. "He told me, 'I'm not working, I have no money, I'm white trash.'"
Asked about the baby mama drama (he claims not to have), White refused comment to People over the conflict, saying he wasn't legally allowed to discuss details of his ongoing custody case.
For more on White and Johnson's rift check out Star magazine, on newsstands now!