Dancing With The Stars: Who Scored The Highest, Lowest?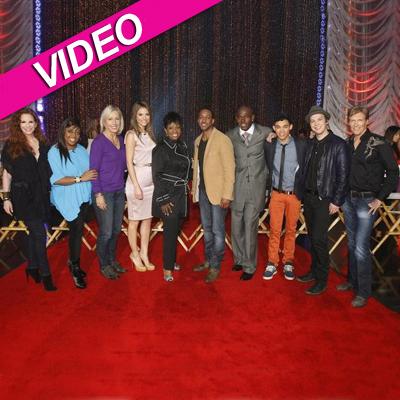 Opera singer Katherine Jenkins established herself as an early favorite with a 26-point showing, set to the tune of Robert Randolph and the Family Band's "Ain't Nothing Wrong With That."
"I know sexy when I see it-- and you've got it!" judge Bruno Tonioli told Jenkins, who heads into in the catbird seat Tuesday, having amassed 52 points between the 26 she got this week and the 26 she got last week.
Article continues below advertisement
"That was so brilliant: the hot, the sexy, the damn good choreography!" said judge Carrie Ann Inaba, adding the the steamy jive left her "hot and bothered!"
Much of the talk stemming from last week's premiere centered around Telenovella hunk William Levy, also known as the "Latin Brad Pitt."
Again, Levy impressed, besting his 24 points from last week with a 25-point quickstep that puts him in good position, with 49 total points, to stave off elimination. (Staving off the ladies is a different story for this "matinee idol," as Bruno called him.
Inaba credited Levy for knowing "how to turn up the heat in this ballroom," while Len Goodman remained his usual, stoic self.
"It was good, not great," the unimpressed judge told Levy.
Elsewhere Monday: Disney star Roshon Fegan, with 26 points for his quickstep this week and 23 last week, finished with 49; Family Matters star Jaleel White's jive earned him 22 points Monday, plus 26 last week for 48 total points; Extra stunner Maria Menounos earned 25 points for her quickstep this week and 21 last week for a total of 46; The View's Sherri Shepherd also earned 46 for her 23-point jive, plus 23 points from last week.
Article continues below advertisement
In the middle of the pack (no pun intended) was Green Bay mainstay Donald Driver, with 45 points (24 for his quickstep Monday and 21 from last week). Melrose Place star Jack Wagner regressed some in his second outing, earning 21 points for his jive, combined with last week's 23, giving him 44 total.
Gladys Knight's quickstep got her a paltry 19 points, paired with last week's 23 for a total of 42. Still, she shouldn't plan on taking a midnight train anywhere, as her iconic star power, reflected in the respect she receives from the audience and judges, should give her every chance to advance as far in the ABC competition as possible.
The bottom three Monday were singer Gavin DeGraw with 41 points (21 for his jive, plus last week's 20); actress Melissa Gilbert with 40 (20 for her quickstep and 20 last week); and tennis great Martina Navratilova, whose success on the court has surprisingly not transcended to the ballroom floor, with 17 points for last night's jive and 20 for last week for a total of 37.
Article continues below advertisement
"Oh my darling," Bruno said, "that serve went into the net!"
Sugarland and Matt Nathanson will take the stage when Dancing with the Stars' 14th season continues on ABC Tuesday at 9/8c.