How The Cast Of Dancing With The Stars Is Slimming Down! Who Is Dieting And What They Are Eating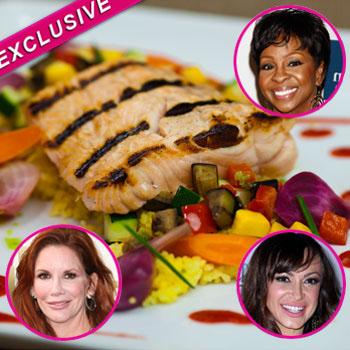 By Leah Ornstein - RadarOnline.com Style & Beauty Editor
Who will be the weight loss winner of this season's Dancing with the Stars ?
Though it's impossible to tell at this point, RadarOnline.com has exclusive details about which of the stars and dancers are dieting using Freshology's Getslim with the Stars meal delivery program, as well as a sneak peak of this week's menu!
Celebrity contestants Melissa Gilbert, Jack Wagner, Jaleel White, Roshon Fagan, Martina Navratilova and Gladys Knight as well as pros Kym Johnson, Karina Smirnoff, Peta Murgatroyd, Tony Dovolani, Tristan MacManus, Chelsie Hightower and Maksim Chmerkovskiy are all fueling their bodies for the dance floor with fresh fare from the program.
Article continues below advertisement
As RadarOnline.com previously reported, Freshology teamed up with the hit show to create the special program, which is available to the general public at a variety of price points.
To find out what all the celebrities and pros from Dancing with the Stars are eating this week, see below:
Salsa
B-Orange & Honey Scented Oatmeal with Turkey Bacon & Fresh Fruit
L-Cilantro Scented Flat Iron Steak w/Lettuce Cups, Corn & Lime Sour Cream
D- Southwest Roasted Chicken w/Rajas Vegetables & Tomatillo Salsa
DT: Raspberry Cheesecake
Rumba
B- Forrest Berry Scone w/Apple Wood Smoked Canadian Bacon & Fresh Blueberries
L- Middle Eastern Inspired Lentil Salad with Cucumber-Mint Dressing
D- Seared Seabass w/Butternut SquashPuree & Fresh Tarragon Glaze
DT: Carrot Cream Cheese Bundt
Meringue
B- Soft Scrambled Eggs w/Mild Cheddar, Roasted Chicken Sausage & FreshPineapple
Article continues below advertisement
L- Braised Pork & Mushroom Ragu over Creamy Grits w/Spicy Ancho Sauce
D-Rosemary Scented Flat Iron Steak w/Quinoa Piaf & Balsamic Demi
DT: Cookies Gone Nuts
Tango
B- Peach Passion Fruit Muffin w/Turkey Maple Sausage & Fresh Fruit
L- Baby Spinach Salad w/Seared Tuna, Fingerling Potatoes & Nicoise Olives
D- Garlic Roasted Chicken Breast w/Provencal Vegetable Ragu
DT: Nuts & Cookies
Jive
B- Neapolitan Style Baked Eggs w/ Turkey Bacon, Peaches & Kiwi
L- Tex-Mex Vegetarian Stew w/ Side Salad
D- Mardi Gras Salmon w/Melted Creole Vegetables & Mirepoix Brown Rice
DT: Berry Lazy Apple Pie
Mambo
B- Whole Grain Pancakes w/Agave Syrup & Chicken Mango Sausage
L- Hoisin Glazed Beef Bowl w/Asian Vegetable Stir Fry
D- Orange Glazed Pork Loin w/Tarragon Scented Carrot & Granny Smith Apple Compote
DT: Zucchini Bundt Cake w/Mascarpone
Swing
B- Caramelized Shallot & Broccoli EggStack w/Turkey Sausage & Fresh Kiwi
Article continues below advertisement