Exclusive
DWTS' Jaleel White's Ex: He Beat Me And Cheated Too!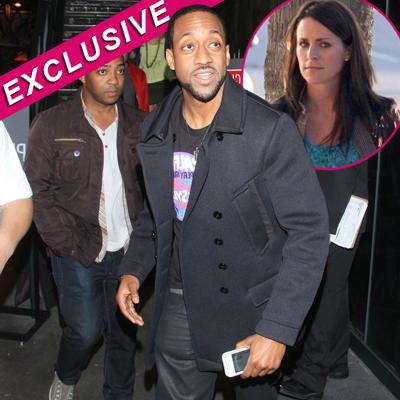 Jaleel White is a family favorite competing on this season of Dancing with the Stars , but the former child star's baby mama has made the shocking claim that he's an abusive cheater!
White, 35, who played the beloved Steve Urkel on Family Matters, has a 2-year-old daughter named Samaya with Bridget Hardy, and she has never spoken about their allegedly abusive relationship -- until now -- in an exclusive interview with Star magazine.
Article continues below advertisement
"He blew up," she tells Star about a fight the couple had after she confronted Jaleel over evidence of cheating she says she found on his phone in May 25, 2010.
"He hit me across the chest area," she says.
Jaleel has vehemently denied any wrongdoing and has never been charged, but Bridget is finally telling her side of the story about what she claims are her ex's violent tendencies, intense insecurities and abusive behavior.
On that fateful day, Bridget claims Jaleel followed her into the bathroom. "He pushed me into the toilet, and it broke. Water went everywhere, through the walls and even to the kitchen downstairs," she says.
Bridget alleges that this wasn't the only instance that he lashed out at her.
"Verbally and emotionally, he's abusive. He told me I'm not working; I have no money; I'm white trash. None of it was true," she says.
Article continues below advertisement
Their relationship grew so rocky, Bridget claims, that the actor tried to pay her off to leave!
"He texted me and offered me $200,000 to leave our daughter with him and have me go and start my own family," she tells Star. "He basically tried to pay me off. I went home screaming and said, 'We're done.'"
Bridget says she took their daughter on a planned trip to Seattle and when she returned she was locked out of the house she shared with Jaleel and all her belongings were in storage.
She reveals that even before that final blow, there were red flags in their relationship, one being naked photos of random women on Jaleel's phone!
"It was a lot of flirting, like, 'I'm coming to your room,' at 4 a.m.," she says. "He hooked up with one girl in our house…he hooked up with a girl within one week of me having the baby."
Bridget has kept her private hell a secret until now.
"I was always protecting him and keeping quiet for him," she says. "I know he felt bad."
Article continues below advertisement