Exclusive
Jaleel White Tried To Hide Baby Mama's Pregnancy To Maintain 'His Playboy Image' Says Ex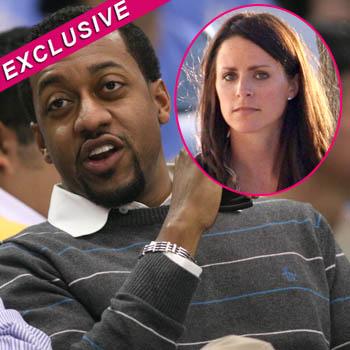 Dancing with the Stars family favorite Jaleel White doesn't embrace family himself, according to his ex-girlfriend who spoke out in an exclusive interview with Star magazine.
Bridget Hardy dated the Family Matters star but on top of abuse allegations, she claims that when she became pregnant with his child he tried to keep it a secret in an effort to maintain his playboy image.
"At the time it was a hard time," Bridget told Star about her tumultuous relationship with Jaleel. "We were having a baby and starting a family and there's lots of stress on a couple. We tried to work it out, but he wasn't ready for a committed relationship."
Article continues below advertisement
Bridget says the 35-year-old actor went to great lengths to hide their family life -- even banning her from attending an A-list funeral because she was showing.
"Even when we had friends over he wanted me to hide all the baby stuff because he didn't want anyone to know we had a child together," she says.
"Someone even invited us to go to Michael Jackson's funeral and he didn't take me because I was seven months pregnant. He still wanted to maintain that playboy image."
As RadarOnline.com first reported, even though Jaleel tried to hide their child, he tried to pay her off for full custody of their daughter at one point!
"He texted me and offered me $200,000 to leave our daughter with him and have me go and start my own family," she tells Star.
"He basically tried to pay me off. I went home screaming and said, 'We're done.'"
And despite their rocky romance, Bridget credits Jaleel with being a good father.
Article continues below advertisement
"He loves her Samaya to death and is a good financial provider," she says regarding their two-year-old daughter.
"We talk on email about the baby. The less communication we have makes it easier. We still love each other, but we had a toxic chemistry."
For more details on Jaleel, his ex-girlfriend and their daughter, pick up the latest issue of Star magazine on newsstands Thursday.
RELATED STORIES: