Dancing With The Stars: Who Scored The First 10s Of The Season?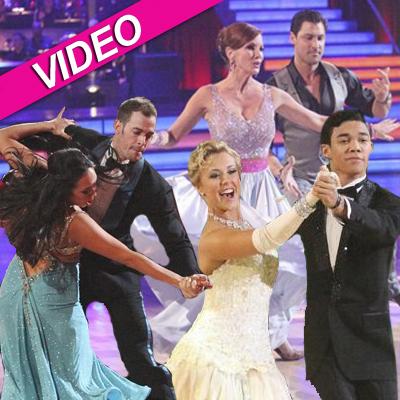 Opera singer Katherine Jenkins waltzed her way to 29 points, one short of perfection, as she harkened back to 1996, when she withdrew from school after her late father was diagnosed with lung cancer and fell into a coma.
"It happened so quickly," the Welsh beauty said.
Judges Carrie Ann Inaba and Bruno Tonioli both awarded Jenkins the 10s, while Len Goodman gave her nine.
"That was magic ... it was like your father's arms were around you, wrapping you for the dance," a weeping Inaba told the singer.
Article continues below advertisement
This season's other head-turning contestant, William Levy, was right on Jenkins' tail with 28 points -- including a 10 from Inaba -- for his salsa that paid homage to the year 1995, when his political prisoner stepfather moved his family from their native Cuba to the United States.
"You conquered the salsa ... you put a whole new meaning into free Willy!" Goodman said, while Inaba called the routine "ridiculously hot."
She didn't get any 10s Monday, but Maria Menounos, fresh off getting in the ring at Wrestlemania Sunday, posted three nines for her rumba dedicated to 1988, the year her hard-working immigrant parents, both janitors, dragged her along the nightclub circuit in Boston as they couldn't afford to leave the then-10-year-old with a baby sitter.
Menounos' spicy routine prompted Goodman to call her dance "a mix of the ballroom with a touch of the bedroom."
Article continues below advertisement
Elsewhere Monday: Green Bay receiver Donald Driver got 26 for his rumba, Family Matters' Jaleel White got 25 for his rumba, and Disney star Roshon Fegan got 25 for the samba.
In an interesting twist coming into Tuesday's show, five competitors tied for last place Monday, with 24 points apiece for their routines: Melissa Gilbert for her jive, music legend Gladys Knight for her foxtrot, The View's Sherri Shepherd for her rumba, Melrose Place star Jack Wagner for his samba, and singer Gavin DeGraw for his samba.