Chelsea Handler: 'Angelina Jolie Can't Be Trusted'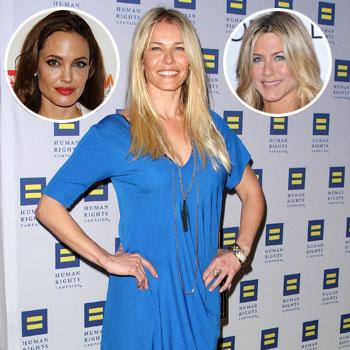 Chelsea Handler has once again lashed out at Angelina Jolie saying that the mother-of-six would not be a good friend to have.
When asked in the latest issue of More magazine who would be the opposite of a girl's girl, the late night chat show host was definite in her answer.
"Probably Angelina Jolie," Chelsea said. "She doesn't strike me as someone I would have a close friendship with. You just know as a woman, when you see another woman, if that's a woman you can trust."
Article continues below advertisement
Chelsea and Jennifer Aniston are now very close friends and she has refused to back down on calling Jolie a "home wrecker" for getting together with Brad Pitt while he was still married to Jen.
The blonde funny girl also spoke about being "madly in love" with hotel magnate André Balazs.
They split up last year but rekindled their romance in February.
"My boyfriend, André… We just got back together literally yesterday," she revealed. "We had dated for nine months, a long-distance relationship with all the stresses and traveling and running around. It wasn't a real life; we weren't living together.