Angelina Jolie Looks Scary Skinny As She Flashes Engagement Ring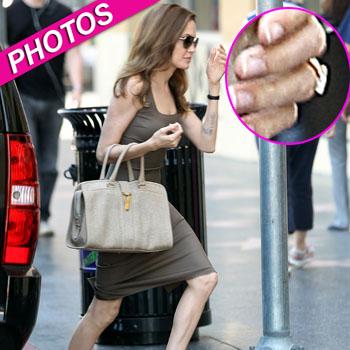 Angelina Jolie may be altar bound but she is evidently not concerned about filling out her wedding dress as she was pictured Monday looking scarily thin.
Most brides try to lose a few pounds before saying "I do" but the Oscar winner may be encouraged to actually put on some weight before she becomes Mrs. Brad Pitt.
The 36-year-old star was seen walking into the Roosevelt Hotel in Hollywood wearing a fitted gray sleeveless dress that did little to disguise her bony physique.
Article continues below advertisement
Jolie's sinewy arms and legs poked out of the knee length garment and she looked pale and drawn.
The one bright thing about her outfit was her shiny new accessory – her engagement ring from Pitt.
People reports that Brad presented his long term love with the $250,000 sparkler at their house and "spent the day at home together in L.A. savoring the moment until their kids returned home from school."
As RadarOnline.com previously reported, TV maven Barbara Walters has slammed the A-List couple for their engagement saying they should just "get married already!"