Exclusive
No Settlement In Sam Lutfi Lawsuit Against Britney Spears And Her Family, Heading To Trial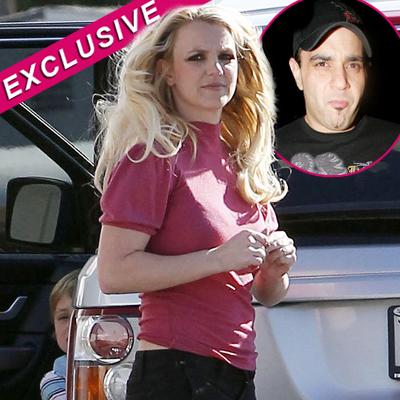 RadarOnline.com Assistant Managing Editor
The lawsuit that Britney Spears former manager, Sam Lutfi, has filed against the pop star and her parents, Jamie and Lynne Spears, for libel, defamation, breach of contract and assault, is unlikely to settle and will go to trial this fall, RadarOnline.com is exclusively reporting.
Lutfi is suing the Toxic singer and her parents, Jamie and Lynne Spears. Lynne wrote a book, Through The Storm, that discussed Lutfi's role in Britney's life leading up to her very public meltdown, which resulted in Jamie gaining conservatorship of his daughter in 2008.
Article continues below advertisement
EXCLUSIVE DOCUMENTS: Britney Spears Accuses Sam Lutfi Of Unlawfully Retaining Her Drug Test Results
"There will be no settlement in the lawsuit. Britney's parents are steadfast that they want to defend themselves against the allegations that Sam Lutfi has made against them and wouldn't give him a dime for a settlement," a Spears family source tells RadarOnline.com exclusively. "They are ready to go to trial -- they certainly aren't looking forward to it -- but trust that a jury will be able to determine that Lutfi's lawsuit is without merit and will vote in their favor."
Meanwhile, the judge handling Britney's conservatorship is expected to formally appoint Brit's fiancé, Jason Trawick, to be one of her co-conservators on Wednesday afternoon. Our Spears sources tell us that Britney isn't expected to be in court for the hearing.
After the judge signs off on Trawick becoming Spear's conservator, a formal announcement is expected to be made that Britney will become one of the judges on Simon Cowell's The X Factor.
Article continues below advertisement
As RadarOnline.com previously reported, it was Cowell who suggested Trawick take on the new role in Britney's life. "Simon is very excited about Britney joining the show. However, it's important to remember that she is still under a conservatorship and the last thing her father wants to do is be on the set for hours at a time. Jamie has conservatorship of Britney's finances and personal life," a source close to the situation told RadarOnline.com. "Jamie just isn't comfortable in that world, but Jason is because he is a respected Hollywood agent.
"Simon and Britney's camp agreed it would be a good idea to have Jason petition the court to become a co-conservator of Britney's personal life but he isn't seeking to get involved in her finances. Jason is also very excited for Britney to join the show. There were also insurance complications because Britney is under a conservatorship but those issues have been worked out because it's expected that the judge will grant Jason's petition."
Article continues below advertisement