Simon Cowell Says He'd '100 Percent' Take Britney Spears On X Factor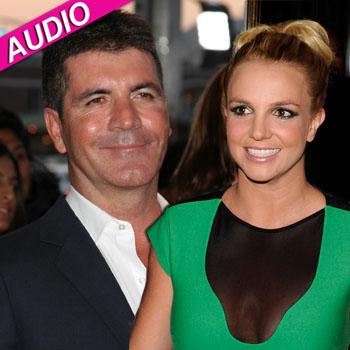 It wasn't so much what Simon Cowell said about Britney Spears' prospects of joining the cast of The X-Factor, but the way he said it.
"If it was my decision to sign Spears, I'd do it 100 percent — if we could get her," Cowell said in the most optimistic tone he could muster.
The musical genius, appearing on Ryan Seacrest's syndicated radio show Friday, shot the breeze with his former American Idol colleague about the ongoing rumors the Toxic singer will bring her massive star power to the second season of The X Factor.
Article continues below advertisement
"We'll find out very soon … if we've spoke to her," Simon told Seacrest coyly when asked if pop's most celebrated Southern belle would join the cast, filling one of the two spots vacated when Nicole Scherzinger and Paula Abdul parted ways after season one wrapped up.
"There are a lot of names that have been bandied around," Simon said, adding, "We've got to keep quiet about it … we're very, very, close -- I think were very close."
As we previously reported, Spears' conservatorship might fall into the hands of her fiance Jason Trawick -- at Simon's suggestion -- to ease her onto the Fox show.
"Simon is very excited about Britney joining the show. However, it's important to remember that she is still under a conservatorship and the last thing her father wants to do is be on the set for hours at a time. Jamie has conservatorship of Britney's finances and personal life," an insider told RadarOnline.com.
Article continues below advertisement
"Jamie just isn't comfortable in that world but her fiancé, Jason Trawick is, because he is a respected Hollywood agent.
"Simon and Britney's camp agreed it would be a good idea to have Jason petition the court to become a co-conservator of Britney's personal life but he isn't seeking to get involved in her finances.
"Jason is also very excited for Britney to join the show. There were also insurance complications because Britney is under a conservatorship, but those issues have been worked out because it's expected that the judge will grant Jason's petition."