Exclusive
Britney Spears Accuses Sam Lutfi Of 'Wrongful Retention' Of Her Drug Test Results!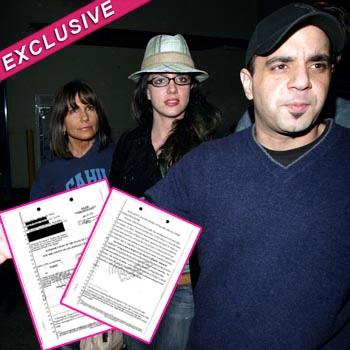 Article continues below advertisement
EXCLUSIVE DOCUMENTS: Britney Spears Accuses Sam Lutfi Of Unlawfully Retaining Her Drug Test Results
Lutfi is suing Britney's parents, Jamie and Lynne Spears along with the pop star. Lynne wrote a book, Through The Storm, that discussed Lutfi's role in Britney's life leading up to her very public meltdown, which resulted in Jamie gaining conservatorship of his daughter in 2008.
Lawyers for Britney's conservatorship accuse Lutfi of violating a previous judge's ruling in the custody dispute that sealed the drug test results, by attempting to introduce those documents into his lawsuit against the Spears clan.
"Osama 'Sam' Lutfi, lived with Spears in 2007. He was a conduit for communications between Ms. Spears and her then family law attorneys," the documents read. "He appears to have first obtained in 2007 and later retained copies of documents describing and relating to the results of the Court-ordered drug testing of Ms. Spears and court-supervised monitoring of Ms. Spears visitation with her young children.
Article continues below advertisement
"These documents on their face appear to fall squarely within the scope of sealing orders issued by Judge Gordon. Rather than apply to Judge Gordon for relief from the sealing orders in the family law proceedings, Lutfi inappropriately invoked the conditional sealing provisions...in an attempt to unseal some of the records that are subject to sealing orders issued by Judge Gordon."
Lutfi wants to formally introduce into evidence at the trial a declaration from Britney that she gave in 2007 which dealt with her medication's effect on her ability to drive her children along with declarations from drug testing officials and her former doctor, Dr. James DeLong, which addressed her physical and mental health and a monitored visitation report.
Spears lawyers contend that Lutfi has no legal right to introduce this evidence unless he formally files a motion with the judge that had ordered those documents sealed. The recently engaged pop star's lawyers want the judge handling the lawsuit to not allow the disputed exhibits because he doesn't have the proper jurisdiction to do so.
As RadarOnline.com previously reported, Britney became engaged to her long time beau, Jason Trawick, last year but she won't be heading down the aisle until the Lutfi matter has been resolved.
Article continues below advertisement
"Lawyers for Britney's conservatorship have been successful in keeping her from being deposed in the Lutfi litigation, and the lawsuit involving her Elizabeth Arden fragrance," a source told RadarOnline.com. "First of all, everyone involved wants Britney to get married once the conservatorship has been lifted.
"She could get married under the conservatorship, but the judge would have to sign off on it. If that were to happen, lawyers repping Lutfi would absolutely go into court and argue that if Britney were able to get married, she should be able to be deposed. There is no way Team Spears is going to let that happen. It will likely be a long engagement, which is fine with Britney and Jason. They are 100 percent solid and very much in love."