Arkansas Coach Bobby Petrino Fired After Affair Scandal And Bike Crash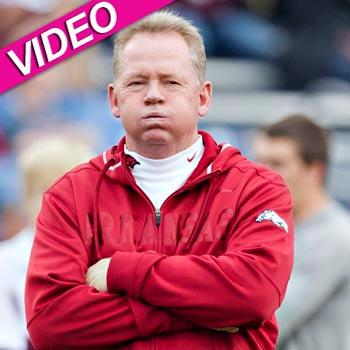 By Debbie Emery - RadarOnline.com Reporter
After being placed on paid leave last week, Arkansas football coach Bobby Petrino has been fired in the wake of a motorbike crash that lifted the lid on his illicit affair with a 25-year-old who he unfairly hired, and then lied to his boss about.
Athletic director Jeff Long announced his decision on Tuesday evening, while detailing an extensive list of wrong-doings that the college head coach had committed during his four years on the job.
Article continues below advertisement
"Coach Petrino engaged in a pattern of misleading and manipulative behavior designed to deceive me and members of the athletic staff, both before and after the motorcycle accident," he explained, adding that the 51-year-old married father of four was fired "with cause," meaning he will not receive the $18 million buyout his contract called for.
As RadarOnline.com previously reported, Petrino and former volleyball player, Jessica Dorrell, came flying off his Harley Davidson in Crosses, Kansas, aptly on April Fool's Day, leaving him with a cracked vertebrae, four bruised ribs and a bruised face.
Initially, he claimed that he was by himself when the bike crashed, but he was forced to come clean after the police report was released, which revealed that Dorrell, whom he had hired as a member of the football staff the previous week, was with him.
The extramarital affair was far from new, revealed Long, and Bobby and Jennifer had been a couple for a "significant" amount of time and at one point he had even given her $20,000 as a gift.
Article continues below advertisement
Following his public lambasting, the shamed coach made a statement of apology. "The simplest response I have is: I'm sorry. These two words seem very inadequate," he said.
"But that is my heart. All I have been able to think about is the number of people I've let down by making selfish decisions. I've taken a lot of criticism in the past. Some deserved, some not deserved. This time, I have no one to blame but myself.
"I chose to engage in an improper relationship. I also made several poor decisions following the end of that relationship and in the aftermath of the accident. I accept full responsibility for what has happened."
As the highest paid state employee in Arkansas, Petrino was in the middle of a seven-year contract under which his salary averaged $3.53 million per year.
RELATED STORIES:
Cheerleader Who Allegedly Had Sex With A Student Is A 'Smart, Christian Girl,' Says Friend