CAUGHT ON TAPE: New Orleans Saints Coach Urging Players To Injure Rivals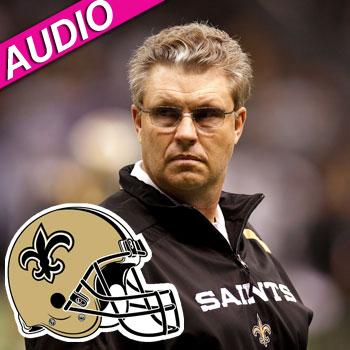 By Debbie Emery - RadarOnline.com Reporter
Shocking audio has surfaced of New Orleans Saints defensive coordinator Gregg Williams urging his players to injure an opposing team, causing outrage among the NFL community and marking the most-damning evidence yet of a pay-for-pain scheme that has shamed the former Super Bowl champions, and RadarOnline.com has the offensive audio.
In a documentary obtained by Yahoo! Sports, he was captured by filmmaker Sam Pamphilon giving a passionate pregame prep talk on January 13 telling the Saints defense to deliberately hurt San Francisco 49ers players in return for cash rewards.
Article continues below advertisement
"Kill the head, the body will die," he said in reference to hurting 49ers running back Frank Gore. "We've got to do everything in the world to make sure we kill Frank Gore's head. We want him running sideways. We want his head sideways."
As RadarOnline.com previously reported, Williams has been suspended by the NFL indefinitely since the bounty scandal broke last month, while his boss, head coach Sean Payton, has been banned from football for 12 months.
When discussing how to handle other players, the violent assistant coach demanded. "We want to knock the f**k out of him. He's no idea what he is in for," and in other points in the rant he rubbed his fingers together indicating cash payment.
"Respect comes from fear," revealed Williams, while pointing out players with concussions or ACL injuries who would be easy targets. "We never apologize for the way we compete."
Listen to the shocking audio: