NFL Quarterback Ryan Leaf Says He's Made 'Some Mistakes' Following Arrest For Burglary And Drugs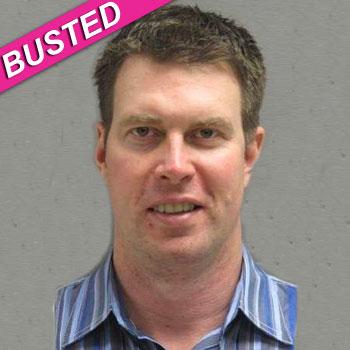 Troubled former NFL quarterback Ryan Leaf is admitting to some "mistakes" following his arrest on burglary and drug charges.
"I've made some mistakes and have no excuse," Leaf said in a statement. "I am using the tools I've learned to move forward rather than backwards... I am confident that there will be further understanding when the facts are revealed."
Leaf was arrested Friday night on burglary and drug possession charges after a month-long investigation.
Article continues below advertisement
The 35-year-old was busted in his home town of Great Falls, Montana for the two felony charges plus one for first time misdemeanor theft, Cascade County Detention Center Officer Robert Rivera told the AP.
Leaf was freed on $76,000 bond and is due in court on Monday.
Great Falls Police Sergeant Chris Hickman said that the task force found 20 Oxycodone pills, a schedule II narcotic which there was no prescription for and a prescription bottle inside a golf bag which belonged to an associate of Leaf. That man claims the former player had entered his home on Wednesday when he thought no one would be there.
The ex-player's arrest is complicated by the fact that he pleaded guilty to seven counts of obtaining a controlled substance fraudulently and for delivery of a simulated controlled substance in Texas in 2010 where he received a suspended sentence, 10 years probation and fined $20,000.
Randall County district attorney James Farren says that he's going to file a motion on Monday to revoke the probation stating that the situation was "sad." Leaf could face over 20 years in jail for breaking the terms of his plea deals.
During his career, he played for the San Diego Chargers, Dallas Cowboys, Tampa Bay Buccaneers and the Seattle Seahawks. He was also the No. 2 pick in the 1998 Draft behind Peyton Manning but is known for being one of the biggest busts in pro football history.
RELATED STORIES:
Taylor Swift & Tim Tebow: Hot Couple Alert?
Who Is Donald Driver? Seven Things You Didn't Know About The DWTS Competitor
Who Is Tim Tebow's Latest Adversary? Seven Things You Didn't Know About Brady Quin