Married Arkansas Football Coach Bobby Petrino Admits Affair After Bike Crash With Mistress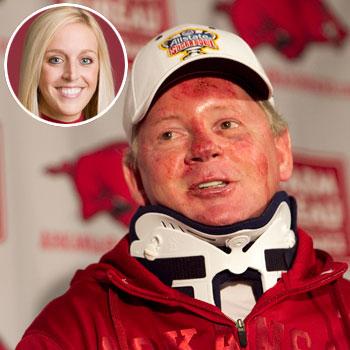 By Debbie Emery - RadarOnline.com Reporter
University of Arkansas football coach Bobby Petrino has finally admitted to an extra-marital affair after he and his mistress had a motorcycle crash, which left him with broken ribs - and red-faced in more ways than one.
The married Razorbacks coach was placed on paid administrative leave by the school on Thursday, not because of the sexual impropriety but because he lied to athletics director Jeff Long about the accident involving 25-year-old Jessica Dorrell, whom he had hired as a member of the football staff earlier this week.
Article continues below advertisement
"My concern was to protect my family and a previous inappropriate relationship from becoming public," said 51-year-old Petrino in a statement, who apologized to his wife, four children and the staff, students and state of Arkansas.
The coach and the pretty blonde former volleyball player came flying off his Harley Davidson in Crosses, Kansas, on Sunday, leaving him with a cracked vertebrae, four bruised ribs and a bruised face.
Initially, he claimed that he was by himself when the bike crashed, but he was forced to come clean after the police report was released, which revealed that Dorrell was with him.
Now after four years in the job, the highest-paid state employee in Arkansas could be fired because of the cover-up.
"I'm at the beginning of the review. I don't know what I'm going to find," said his boss, Long, reported SportsIllustrated.com.