Acid Attack Victim Opens Up About Her Living Horror 'He Turned Me Into A Monster'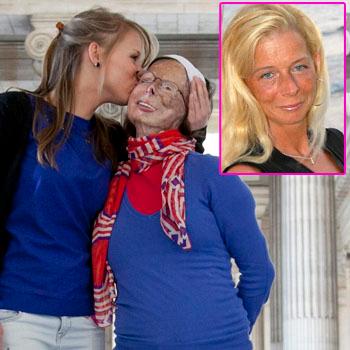 By Debbie Emery - Radar Reporter
A Belgian woman who was hideously disfigured when her spurned lover threw sulfuric acid into her face is speaking out publicly for the first time and revealing her living nightmare.
Patricia Lefranc was transformed from a pretty blonde after her nose, finger and eyelids were melted off in the 2009 attack that also left her without sight in one eye, hearing in one ear, and almost burned through her heart and lungs.
Article continues below advertisement
"He turned me into a monster. Some days, I just cry. People stare at me and mock my appearance. It's a life sentence for me, so why shouldn't it be for him?" the 48-year-old mother-of-three told Britain's Closer magazine.
Lefranc had to face her attacker, ex-boyfriend Richard Remes, last month when he appeared in a Brussels, Belgium court facing charges for the cold-hearted attack. She said she was "determined to look him in the eye and show the jury what he has done to me."
During the trial, she explained to the court how her bitter jilted lover was waiting for his victim in the Brussels suburb of Molenbeek-Saint-Jean when she got off an elevator and sprayed sulfuric acid all over her head and upper body.
She was convinced that she would die but fortunately neighbors nearby heard her piercing screams and she was rushed to the burns unit of a nearby hospital, where she lay in a coma for three months. Her children, Laetitia now 28, Marie, 18, and Joey, 13, kept a vigil at her beside and Remes was arrested thanks to an eye witness.
Article continues below advertisement
"I hope to convince the court that he did indeed want to murder me," Lefranc revealed.
Her bravery paid off, as Remes, 57, was sentenced to 30 years in prison for attempted murder, despite claiming that he didn't realize the sulfuric acid he sprayed would have such devastating consequences.
While her attacker will spend most of the rest of his life in jail, Patricia has to cope with living with her injuries and getting laughed at by her son's school friends.
"Remes has also ruined my life as a woman. Who wants to deal with the monster that he made me?
"I'm stared at on the street. Worse, I'm used as an example of what can happen to a woman who wants to put an end to a love affair."
As RadarOnline.com previously reported, Pakistani woman Fakhra Yunus committed suicide last month because she couldn't live with the after affects of having acid thrown over her face and body by her ex-husband 12 years ago.