R.I.P. Yoda, The World's Ugliest Dog Dies At Age 15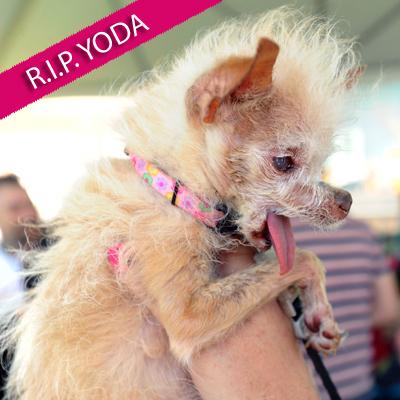 By Debbie Emery - RadarOnline.com Reporter
She became famous around the world for her scraggly tufted fur, jagged teeth, hairless legs, bug eyes and cauliflower ears, but even her exceptional looks couldn't last forever, as RadarOnline.com has learned that the World's Ugliest Dog has died at age 15.
Yoda, a 1.8-pound female Chinese crested-Chihuahua mix, passed away on Saturday at her home in Hanford, California, reported the Hanford Sentinel.
Article continues below advertisement
"Say a prayer today 4 my YODA...rest in peace 3-10-12," said owner Terry Schumacher, who adopted the raggedy pet after she found her abandoned behind an apartment building and mistook her for a rat.
"She passed away last night in her sleep. I will miss her funny little ways! But comforted knowing she will be joining my Mom and Dad, who loved her so much! Her memories will live on forever!!!"
Owner and dog were catapulted to fame last year when they won the 23rd annual World's Ugliest Dog contest held last June at the Sonoma-Marin Fair in Petaluma, California.