Dog Who Had His Eyes Gouged Out Gets A Second Chance With $17,000 Of Donations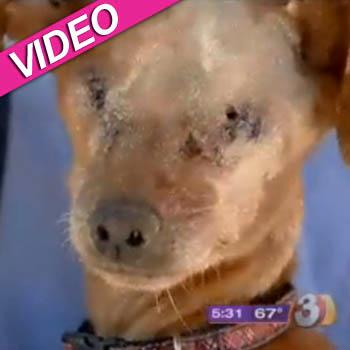 By Debbie Emery - Radar Reporter
A down-on-his luck dog who had his eyes gouged out and was shot with a BB gun has turned into a happy hound thanks to an outpouring of support from animal lovers.
With his socketless eyes sewn shut, Andre the miniature pinscher looks more like a stuffed toy than a real pooch, but his tragic story of abuse and overcoming adversity touched the hearts of so many people that more than $17,000 has been donated to help get his paws back on the ground.
Article continues below advertisement
As RadarOnline.com previously reported, the scrappy pup was on the brink of death after being used as target practice and then tied up in a bag and thrown in a dumpster in Phoenix, Arizona, where savior Cedric Conwright found him on January 3.
2012 has proven to be a much better year for Andre, after getting life-saving treatment at the McDowell Mountain Animal Hospital thanks to Susy Hopkins of the Feathers Foundation.
"I just couldn't believe this dog was alive," Hopkins said, reported AZCentral.com . "He was a skeleton. Green and yellow liquid was draining down his face."
Members of the Feathers Foundation launched a FirstGiving.com fundraising page in the little dog's honor and soon the donations came flooding in, including $3,500 from a local pizza place fundraiser, and it now tops $17,000.
"People just wanted to see Andre, to hold him, to hug him," said Hopkins. "And no matter how many people wanted to pet him, Andre never resisted. He was so calm, so gentle. It made me wonder even more why someone would treat him so badly."
Article continues below advertisement
One woman who fell head-over-heels for the little pinscher when she saw him on the local news is Sandy Powers. She has since adopted him.
It was love at first sight," she said. "I had never adopted a rescue dog before, but I knew I wanted to care for this one."
Andre is now settling in nicely at her home and even has a guard dog pal called K-Bela, a 90-pound rottweiler mix, to make sure no one messes with him again.