Whitney Houston's Ex Sister-In-Law: Oprah's Interview With Bobbi Kristina 'Too Soon'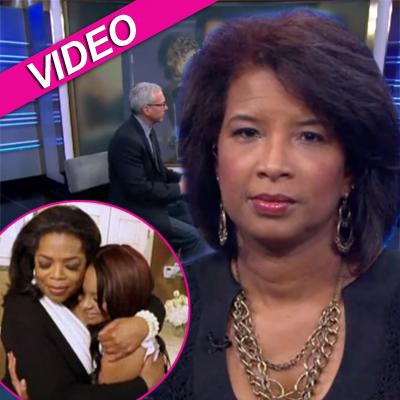 By Adam S. Levy - RadarOnline.com Staff Writer
Whitney Houston's former sister-in-law, Monique Houston, said Oprah Winfrey's televised chat with the late singer's 19-year-old daughter Bobbi Kristina was "disturbing," and conducted "too soon" after the singer's February 11 death.
"The whole interview was a little disturbing," Monique, who was married to Whitney's brother Gary, told HLN's Dr. Drew Tuesday. "It was a little soon to expose Bobbi Kristina to the media.
Article continues below advertisement
"I've lost my mother -- and losing your mother is a huge trauma -- and I really think she needs time to heal."
On Oprah's Next Chapter, Bobbi Kristina, the sole heiress to Whitney's fortune, told Oprah her late mother's always with her.
"Her spirit is strong, it's a strong spirit," Bobbi Kristina said. "I can hear her voice in spirit talking to me -- 'I'm right here, I've got you' -- I can always feel her with me. I feel her pass through me all the time."
Monique told Dr. Drew she divorced Gary (who also appeared in the Oprah special) because of recurring issues dealing with substance abuse.
"Not necessarily because he was a drug addict," she said, "but once things were spinning too far out of control, I had to make the decision to separate myself from the situation."
Monique said the Houston family "always has been a tight camp" and that she always felt like an outsider.
Article continues below advertisement
Watch the video on RadarOnline.com
"Most of the people in her camp, it was very important to be close to Whitney," she said. "I loved Whitney -- I loved her her as a sister, but I didn't want to be her right-hand man ... my focus was my family and my husband."
In response to a clip in which Gary said he was surprised by his sister's premature death, both Monique and Dr. Drew agreed he was in denial.
Monique said the family rejects conventional treatment "to a certain degree," and that she appeared on the show to promote awareness about enabling.
"It's time to heal -- it's time to stop pointing the fingers and shifting the blame ... I'm concerned about all the children in the family ... there are addiction issues in the family.
"There's other people involved now to be concerned about."
RELATED STORIES: