Reebok Pulls Controversial 'Cheat On Your Girlfriend' Ad Campaign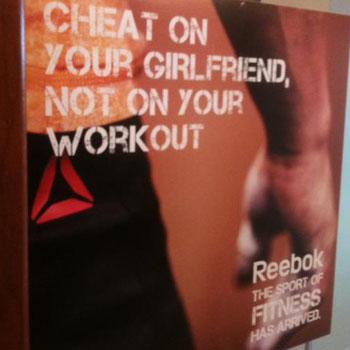 By Amber Goodhand - RadarOnline.com News Editor
Reebok quickly pulled their controversial "Cheat On Your Girlfriend" ad campaign after the athletic sports line came under fire for promoting philandering.
The ad, which ran in Germany, was taken down after Reebok received numerous complaints — including a letter from the founder of CheaterVille.com — demanding that the ads stop.
"Cheat on your girlfriend, not on your workout," the ad read. And not to discriminate, the company also posted ads saying, "Cheat on your boyfriend, not on your workout."
Article continues below advertisement
Just one day after RadarOnline.com posted the exclusive letter to Reebok from CheaterVille.com, a spokesperson released an apology.
"We regret that some offensive Reebok materials were recently printed. The signs were removed as soon as we were made aware of them," spokesman Dan Sarro said on Tuesday.
"I can assure you that Reebok does not condone this message or cheating in any way. We apologize for the offensive nature of these materials, and are disappointed that they appeared at all."