Tiger Woods Banned Elin From Celebrating His Golf Wins, Former Coach Reveals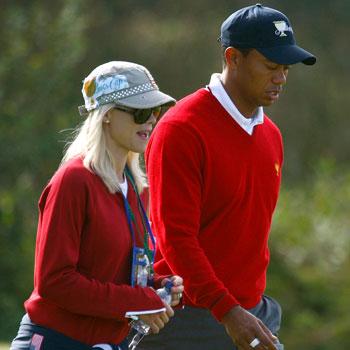 Tiger Woods banned former wife Elin Nordegren from so much as cracking a smile on the golf course if he won, his former swing coach Hank Haney reveals in a fascinating new book.
Haney claims that the shamed golfer did not allow the Swedish model to celebrate because he felt that he was "supposed to win."
In the new tome, The Big Miss, Haney talks about working with Woods during his six years on the job before he quit in 2010.
Article continues below advertisement
He said Woods and Nordegren had a "calm, almost cool relationship" but that the golfer was also very controlling, according to excerpts from the book in The New York Times.
Three months after the couple married, Nordegren wanted to celebrate her husband's victory at Torrey Pines and suggested they throw a party like they used to when she worked as a nanny for fellow golfer Jesper Parnevik.
But Tiger shot her down and told her: "E, that's not what we do. I'm not Jesper. We're supposed to win," Haney writes.
The blonde beauty's smile got "got smaller" and "in the future Elin would keep her emotions under wraps whenever Tiger won," Haney adds. "As life became more complicated, I thought Elin changed...She and Tiger developed a calm, almost cool relationship in front of other people, and conversations with them tended to be awkward and strained. I never saw them argue, but they weren't openly affectionate either."
MORE ON:
hollywood happenings
Article continues below advertisement
As RadarOnline.com previously reported, Haney does not paint a pretty picture about the golfer in his book and presents him as tempestuous, rude and cheap.
"I think it's unprofessional and very disappointing," Woods told ESPN.com about the book, "especially because it's someone I worked with and trusted as a friend."
The Big Miss is due out on March 27.
RELATED STORIES: