Desperate Housewives Trial: Major Blow For Nicollette Sheridan As Judge Throws Out Battery Claim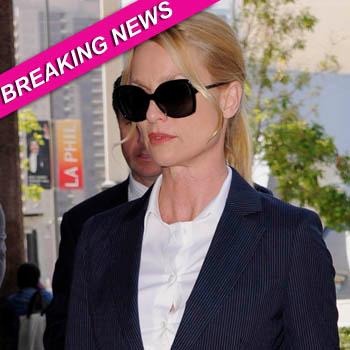 Article continues below advertisement
The esteemed writer/producer took the stand last Thursday and gave his side of the story, claiming he was giving Sheridan instructions for a scene and, "I reached out and tapped her on the side of the head," and that Sheridan went ballistic, and accused him of hitting her.
Cherry said he went to Nicollette's trailer a short time after to apologize and that they ended up hugging it out. "We ended up with me going in and hugging. Once the hug was over, I turned around and … complimented her on the decor of her trailer. I hadn't been there in quite a while. Then I left," Cherry said.
The Judge agreed with Cherry's version of events, finding that Sheridan's claim did not meet the standard of proof for battery and therefore letting Cherry off the hook.
Earlier on Tuesday, a Desperate Housewives employee, who claimed to have mistakenly received an email from show execs proving their intention to fire Sheridan from the hit show took the stand.
Michael Reinhart is a construction coordinator on the ABC show who relayed bits and pieces of the email to the jury in a Los Angeles courtroom after he admitted to immediately deleting it because its contents disturbed him.
Article continues below advertisement
In the email, Reinhart said he remembered seeing Nicollette's name along with the words "delete" and "hard drive."
As RadarOnline.com previously reported, Reinhart left a voicemail message for Nicollette's attorney on Sunday afternoon explaining the email he'd received and how it may help with her lawsuit.
"I'm an employee of Desperate Housewives. I received an email soon after Nicollette filed suit; I think it was meant for a much narrower distribution, but it regarded having IT come in and wipe clean the hard drives of the producers in response to the correspondence that they've had email wise about firing Nicollette," Reinhart said in the message.
MORE ON:
Nicollette Sheridan
"Um, I think I got it by mistake; I believe they were going to have the Disney IT person come in to do the sweeping of the hard drive...that's about all I know; you obviously can check this number and figure out who I am but I really don't want to get involved."
The attorneys for Cherry and ABC requested a trial delay so they could examine Reinhart's computer, but Judge Elizabeth Allen White denied them, as well as their objection to Reinhart's testimony.
Article continues below advertisement