Nicollette Sheridan Trial: ABC Employee Claims Hard Drives Wiped, Emails Erased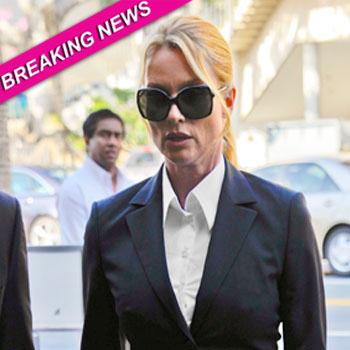 By Amber Goodhand - RadarOnline.com Reporter
Nicollette Sheridan got a surprise ally in her corner when her attorneys presented a voicemail message in court Monday morning from a low-level Desperate Housewives employee who may help her win her wrongful termination and battery lawsuit.
The voicemail was left for Nicollette's attorney Mark Baute on Sunday afternoon and explained that he had "mistakenly" received an email indicating that ABC was going to wipe all the hard drives clean to erase evidence of their intention to kill off her character Edie Britt on the show.
Article continues below advertisement
"I'm an employee of Desperate Housewives. I received an email soon after Nicollette filed suit; I think it was meant for a much narrower distribution, but it regarded having IT come in and wipe clean the hard drives of the producers in response to the correspondence that they've had email wise about firing Nicollette," the caller said.
"Um, I think I got it by mistake; I believe they were going to have the Disney IT person come in to do the sweeping of the hard drive...that's about all I know; you obviously can check this number and figure out who I am but I really don't want to get involved."
Mark and his partner Patrick Maloney want to have the employee called in as a witness, but the ABC lawyers contended this was "the first we'd heard of this," to Judge Elizabeth Allen White and Tuesday is supposed to be the last day in the trial.
"I'm a real low level employee there and I shouldn't have got that email, I'm on the general email list," the staffer continued on the voicemail.
"But there was definitely a conspiracy to cover up the correspondence on email wise in regards to Nicollette."
MORE ON:
Celebrity Justice
Article continues below advertisement
As RadarOnline.com previously reported, Nicollette filed a lawsuit against Desperate Housewives creator Marc Cherry claiming she was fired after he hit her while on set and the two had a falling out.
"I reached out and tapped her on the side of the head," Marc told the jury last Thursday, and said that Nicollette then went ballistic and accused him of hitting her.
Marc said he went to Nicollette's trailer a short time after to apologize and that they worked things out. "We ended up with me going in and hugging. Once the hug was over, I turned around and…complimented her on the decor of her trailer. I hadn't been there in quite a while. Then I left," he said.
It was revealed in testimony earlier last week that Marc had planned on killing Nicollette's character off the show four months before the alleged assault occurred because costs needed to be cut on the show as it wasn't doing as well in the ratings.
The voicemail and possible testimony from the Desperate Housewives staffer claiming that email correspondence about firing Nicollette was purposely erased from company hard drives, may put a kink in the defense's game plan.