Nicollette Sheridan Testifies In Desperate Housewives Lawsuit 'I'm Not Accustomed To Being Hit'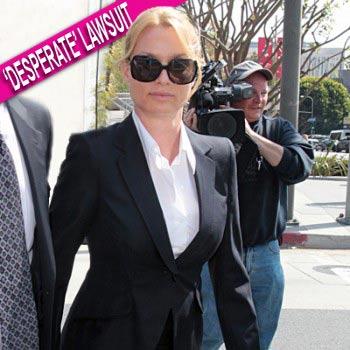 Article continues below advertisement
Sheridan, wearing a black skirt suit, vividly recounted for the jurors, with voice trembling, the day that Marc Cherry allegedly struck her. Sheridan asserted that the incident happened during a rehearsal for a scene and that Cherry slapped her with his right hand on the side of her head. She claimed they got into a heated argument about the script after Sheridan didn't like one of the lines Cherry wrote for her character, Edie Britt.
"I'm not accustomed to being hit," Sheridan said with tears in her eyes. "You hit me in the head! That is not OK. That is not OK," Sheridan claims she told Cherry right after he allegedly struck her.
Cherry allegedly went to Sheridan's trailer after the incident begging for forgiveness. "I'm on bended knee begging for your forgiveness," Sheridan said Marc told her, and told her he would change the script to her specifications. Sheridan did return to the set to film the scene and said she did so because, "I pride myself on being a professional. I wasn't going to let everybody else down."
MORE ON:
Desperate Housewives
Article continues below advertisement
Desperate Housewives cast members are on ABC & Cherry's witness list, including Marcia Cross, Teri Hatcher, Eva Longoria, and Felicity Huffman. Cherry is also expected to take the stand in his defense. Among Sheridan's planned witnesses are the former ABC president, a former ABC studio executive, and several former producers of the show.
The trial is expected to last eleven days and the judge ruled that Sheridan will only be able to attempt to reclaim one year's salary, $4 million, and not compensation for the show's full run. The jury doesn't need to come to a unanimous verdict because this is civil court.