Desperate Housewives Trial: Marc Cherry Explains His Alleged Assault Of Nicollette Sheridan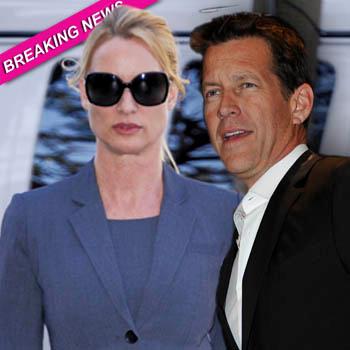 Desperate Housewives creator Marc Cherry explained to jurors on Thursday the circumstances of the day that Nicollette Sheridan claims he hit her, and the upcoming death of a major character was also revealed, RadarOnline.com is reporting.
As previously reported, Sheridan, 48, filed a lawsuit against Cherry and ABC, claiming she was fired from the show after telling executives that Cherry had hit her -- a charge he vehemently denies.
Article continues below advertisement
Cherry claims he was giving Sheridan instructions for a scene and told the jury, "I reached out and tapped her on the side of the head," and that Sheridan went ballistic, and accused him of hitting her.
Cherry said he went to Nicollette's trailer a short time after to apologize and that they ended up hugging it out. "We ended up with me going in and hugging. Once the hug was over, I turned around and … complimented her on the decor of her trailer. I hadn't been there in quite a while. Then I left," Cherry said.
It was revealed in testimony earlier this week that Cherry had planned on killing Sheridan's character off the show four months before the alleged assault occurred because costs needed to be cut on the show as it wasn't doing as well in the ratings.
Desperate Housewives star James Denton took the stand for 15 minutes Thursday and told jurors he wasn't surprised that Sheridan's character was killed off because so many people died on the show.
Article continues below advertisement
George Perkins, executive producer of Housewives, told jurors while on the stand that Denton's character, Mike Delfino will be killed off on this Sunday's episode.
Denton told reporters outside the courthouse, "It was hard for me to be in there because I have tremendous respect for Marc (Cherry) and Nicollette (Sheridan)."
The trial is expected to last 11 days and the judge ruled that Sheridan will only be able to attempt to reclaim one year's salary, $4 million, and not compensation for the show's full run.