Exclusive
Kris Humphries Scored 'A Huge Discount' On Kim Kardashian Engagement Ring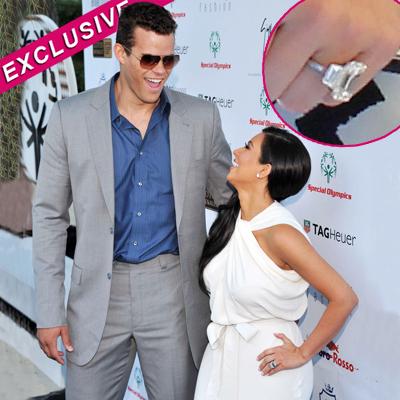 Article continues below advertisement
Kardashian and Humphries were married in an extravagant on camera wedding at a mansion in Montecito, California last summer. The subsequent wedding special on E! was a ratings blockbuster, but there was trouble immediately between the newlyweds. Kardashian filed for divorce after only 72 days of marriage.
"Kris could have never afforded such an extravagant engagement ring for Kim," a source close to the situation tells RadarOnline.com. "He paid $750,000 for the engagement ring. Lorraine Schwartz gave Kris the ring basically at wholesale cost. The ring would actually retail for $2 million dollars. Kris did have other jewelers reach out to him and offer to give him a ring for free in exchange for publicity, but he didn't want to even pursue that. Kris knew how much Kim loved Lorraine's collection, and there was no other option in his mind. Kris absolutely doesn't want the ring back, even though Kim filed for divorce. In his mind, it's her ring, and it was a symbol of his love for her."
Meanwhile, the NBA star is pushing forward to have his short-lived marriage annulled on the grounds of fraud.
"Kris is very close to hiring a new lawyer based in Los Angeles to represent him. He parted ways with Mel Goldsman because Kris wants his Minnesota based lawyer, Lee Hutton, to take the lead in the case, and Mel just wasn't comfortable with that arrangement," the source says. "There are no hard feelings between Kris and Mel, it just didn't work out. Kris is determined that this marriage will be annulled and he is ready to go to trial in order for that to happen."