Is Kate Gosselin Worth $5 Million?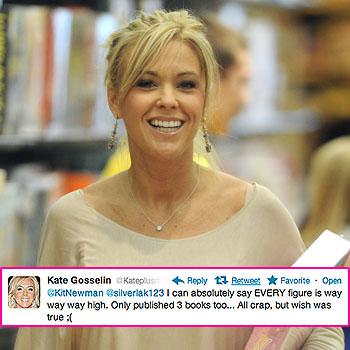 Kate Gosselin has been pleading poverty since the cancellation of her hit TLC reality show, Kate Plus 8, but one site estimates the single mom-of-eight's net worth to be a whopping $5 million!
As RadarOnline.com previously reported, Gosselin sat down with People magazine last September to dish on life after reality TV.
"The scary reality is, 12-hour nursing shifts every day wouldn't let me continue to provide well for eight kids, essentially on my own. When you think about it that way, it gets really scary," Kate said, going on to claim that one thing the family is going to miss will be the luxurious vacations the network paid for the family to go on. They'll still go on trips, but "not like the ones they're used to, but as many as we can handle and afford."
Article continues below advertisement
But, according to celebritynetworth.com Gosselin is sitting on sizable nest egg thanks to her realty shows, speaking engagements and successful books.
"Kate, along with her ex-husband Jon Gosselin, earned between $25k-$40k for speaker engagements and church tours, including cash given to them from church collection plates and charging fans for photos and autographs of their family," the site states. "Kate also published four books, with her first two both debuting at #5 on the NY Times best sellers list. She was also reported to have made $500k from her appearances on Dancing with the Stars."
But, Kate is denying the report, taking to Twitter Tuesday to shoot down the site's questionable facts and estimation of her bank balance.
"I can absolutely say EVERY figure is way way way high. Only published 3 books too... All crap, but wish was true," she Tweeted.
Guess she won't be giving up the day job anytime soon!
RELATED STORIES:
Kate Gosselin Tweets Jon's Former Girlfriend Hailey Glassman!
Jon Gosselin Celebrates 'Drama Free' Life, Says He Does NOT Miss Kate!