JonBenet Ramsey's Killer 'Could Have Been Someone Angry At Me,' Says Her Father John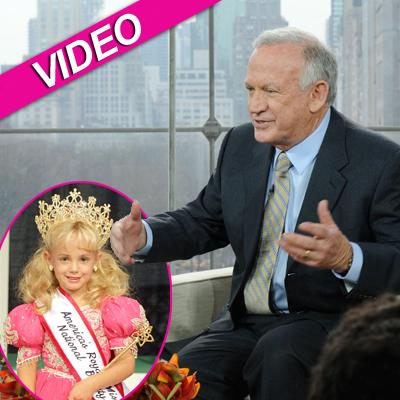 Article continues below advertisement
"Well, I think what happened and it's I guess supported by evidence and seasoned people have looked at it, is this person came into our home when we were out for dinner on Christmas night and then waited until we went to bed and took JonBenet from her room and...," Ramsey told Anderson, trailing off when he got to the part of his story where the little girl was killed.
In one of the most infamous murder cases in American history, JonBenet was found in the basement of her family's home in Boulder, Colorado, the morning after Christmas, with her wrists tied above her head and duct tape over her mouth. She had been strangled and bludgeoned to death.
When asked if he thought he knew his six-year-old daughter's killer, he replied: "I've told people I don't think I know anybody that could be this evil but it was a small town and I had a rather large company in that town," he explained.
"We got publicity from time to time which probably raised our visibility. John Douglas, who is a very well known crime profiler, said he believes it was someone who was either angry at me or jealous of me. I can't imagine I've made anybody that angry at me."
Article continues below advertisement
"Was there ever a moment you doubted your wife?" Anderson asked John.
"Oh no, not even for a nanosecond. In fact, the police asked that question, 'Well, do you think there is any possibility?' No. None. That was an absurd question.
"The real blow, what really brought us to our knees, was the loss of our child," he explained. "The rest of it was just kind of noise level stuff. It was there, but that didn't hurt, the real almost mere mortal hurt was the loss of our child."
Having lost his wife Patsy to ovarian cancer in 2006, John is now remarried and living in Michigan, and in his newly released book, The Other Side of Suffering, Ramsey talks about how he is finally moving on after a decade and a half of pain and grief and learning to let go of his anger. "I was angry for a time. But you can't stay there. It's damaging to you as a person."
The full interview airs on Anderson, Friday, March 16.
In the meantime, watch a clip of John's interview below: