Sexy Mad Men Star Jon Hamm Reveals His X-Rated Background!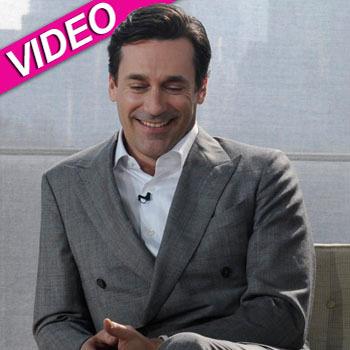 Article continues below advertisement
The 42-year-old dashing actor – who told Elle UK that part of Kim's popularity stems from the fact that "being a f---ing idiot is a valuable commodity – went on to explain to Anderson the difference between porn and his X-rated former job.
"There's a very big difference. There's a huge chasm between… chasm's a terrible word to use…. you don't really want to talk about chasms and porn," he laughed. "There was nothing tasteful about it. It was depressing.
"There was a reason that I was hired to do that job and it wasn't because they needed somebody excellent in that position. If they were focusing on whether the ashtray was in the right place then someone else had done their job terribly," he joked with a cheeky glint in his eye.
"So it was a couple of weeks and it was a pretty depressing way to make a couple hundred bucks a day."
Now the lead man on the AMC retro hit show in which he breaks hearts each week as philandering ad exec Donald Draper, Hamm has certainly moved up in the world!
"It was a learning experience," he revealed to the CNN host.
The full interview can be seen on Anderson on Friday.
In the meantime, catch a sneak peek of Hamm's interview below: