Kelly Lynch Remembers Jon Hamm, The Hunky Bartender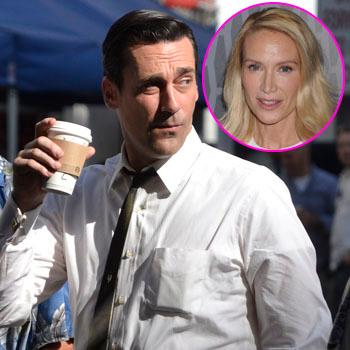 Before he made it big, just like Bruce Willis and James Denton, Jon Hamm tended bar for the rich and famous.
Magic City's Kelly Lynch said she and husband Mitch Glazer used to hire the St. Louis-born stud to tend bar at their house parties, and back then, the ladies were assembling to ogle him quicker than you could say "Don Draper."
"He was the most gorgeous and adorable guy we'd ever met," Lynch, 53, tells XfinityTV.com. "All of the women would be lined up at the bar like alcoholics just to see him shake his Martini shaker."
Article continues below advertisement
Lynch said her daughter Shane was so enchanted with the princely-looking Hamm, "She'd be standing at the bar drawing pictures of Jon pouring drinks for people."
Lynch said of Hamm's subsequent success: "It's just crazy, Hollywood. As soon as somebody gets a job then he's the greatest thing ever. But someone has to have the guts to take a chance on the person and cast them."
In addition to the Martini business, Hamm stayed afloat during his early years teaching, writing and even once worked as a set dresser for adult films.