Exclusive
Gloria Allred Suing CBS For Discrimination: Claiming Client Wasn't Sexy Enough To Be Weatherman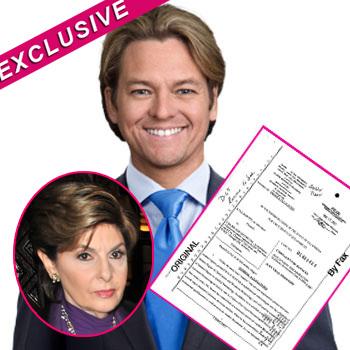 By Jen Heger - RadarOnline.com Legal Editor
Powerhouse attorney Gloria Allred, is representing respected television news weather broadcaster, Kyle Hunter, who claims in a new lawsuit that he was denied an employment opportunity to work in prime time because of his age and gender, RadarOnline.com is exclusively reporting.
The lawsuit alleges that Hunter attempted to interview for two vacancies at KCBS and KCAL, both in Los Angeles, but he wasn't even given the opportunity to interview for the positions because, "KCAL and KCBS decided to hire young attractive women as weather broadcasters in prime time rather than men in order to induce more men to watch their prime time newscasts." CBS owns the KCBS and KCAL affiliates.
Article continues below advertisement
DOCUMENTS: Read Kyle Hunter's Lawsuit Against CBS
"It is important because although most victims of gender discrimination are female, men such as Kyle Hunter can also be victims and they are also protected from sex and age discrimination under the law," Allred tells RadarOnline.com exclusively. "There are many individuals in broadcast news who fear filing a lawsuit alleging employment discrimination because they worry that they will be retaliated against and be blackballed if they assert their rights to be free of discrimination. Kyle has decided to proceed today because he is concerned not only about the denial of his employment opportunity, but also because he is worried about what he considers to be a trend in television news to hire young women as weather broadcasters in prime time while denying qualified male meteorologists the opportunity to be considered for those jobs.
"We all have a stake in ensuring equal employment opportunity. We are proud to represent Kyle Hunter and commend him on the courage that he has shown by filing this trail blazing lawsuit. We look forward to a successful result."
"Despite having distinguished qualifications including being certified with the American Meteorological Society, and winning the 2009 'Golden Mike' award as 'Best Television Weathercaster' KCBS did not contact Mr. Hunter for an interview, or otherwise show any interest in his candidacy... KCBS hired an attractive young female as Johnny Mountain's replacement, and the gender and age of his replacement were key considerations in the hiring decision. Mr. Hunter was far more qualified, and far more experienced than the female hired to replace Mr. Mountain... In its desire to fill the opening with an attractive female, KCAL dropped its own stated preference for an "AMS" (American Meteorological Society). While Mr. Hunter has an AMS certification, Hunter is informed and believes that the female who was hired did not have an AMS certification," the lawsuit states.
Article continues below advertisement
Jackie Johnson, a beautiful busty blonde, is KCBS' weathercaster, and fellow blonde hotty, Evelyn Taft is KCAL's weather girl.
Hunter is seeking unspecified damages, attorneys' fees, and punitive damages.
"The complaint is frivolous and based on gross misstatements of fact. There was no need for the stations to interview someone we were already well aware of. The forecast calls for a vigorous defense by CBS and an early dismissal of the complaint," a CBS spokesperson said in a statement.