Exclusive
Gloria Allred Requests Investigation Of Rush Limbaugh For Calling Law Student A 'Slut' & 'Prostitute'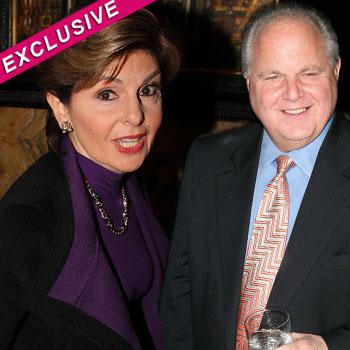 Article continues below advertisement
Under Florida state law it's a misdemeanor to use language demeaning a woman without any basis, "whoever speaks of and concerning any woman, married, or unmarried, falsely and maliciously imputing to her want of chastity, shall be guilty of a misdemeanor of the first degree."
Limbaugh broadcasts his radio show from Florida.
Limbaugh went on his tirade after Fluke testified in front of congress in support of employers that offer group health insurance being required to include legal contraceptives in the coverage.
"For over 20 years, I have illustrated the absurd with absurdity, three hours a day, five days a week," Limbaugh said as way of apology. "In this instance, I chose the wrong words in my analogy of the situation. I did not mean a personal attack on Ms. Fluke.
"I think it is absolutely absurd that during these very serious political times, we are discussing personal sexual recreational activities before members of Congress. I personally do not agree that American citizens should pay for these social activities. What happened to personal responsibility and accountability? Where do we draw the line? If this is accepted as the norm, what will follow? Will we be debating if taxpayers should pay for new sneakers for all students that are interested in running to keep fit?"
Article continues below advertisement
Allred refuses to accept Limbaugh's apology though branding it "meaningless" and has fired off a letter to the Florida County Attorney's Office, obtained exclusively by RadarOnline.com.
Read Gloria Allred's Letter To The Florida County Attorney's Office
"On behalf of the Women's Equal Rights Legal Defense Fund, we request that you open an investigation into whether or not Mr. Rush Limbaugh is in violation of Florida Statutes, a misdemeanor, when he publicly called Sandra Fluke, a female student at Georgetown Law School a 'slut,' and a 'prostitute,' she writes.
The legal ace goes on to state: "Mr. Limbaugh has publicly acknowledged that his reference to Ms. Fluke as a 'slut,' and a 'prostitute,' was baseless and false. In view of that fact that Mr. Limbaugh resides in your county, and allegedly made the false statements concerning Ms. Fluke in your county as well, this letter is directed at your office....The afore-referenced Florida statute directly applies to the conduct Mr. Limbaugh admitted engaging in and we urge you to consider prosecuting this offense."