Exclusive
Gloria Allred: Rush Limbaugh's Apology Is 'Meaningless'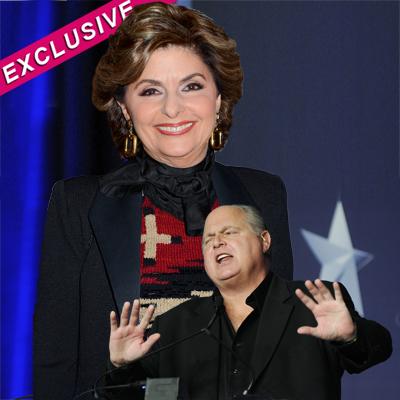 By Jen Heger - RadarOnline.com Legal Editor
Gloria Allred has written an open letter to embattled right wing talk show host, Rush Limbaugh, for calling Sandra Fluke a "slut," and "prostitute" last week after she testified before Congress about birth control.
Allred isn't accepting an apology he issued on Saturday, calling it "meaningless," and a "non-apology," RadarOnline.com is exclusively reporting.
EXCLUSIVE DOCUMENT: Gloria Allred's Open Letter To Rush Limbaugh
Article continues below advertisement
As we previously reported Limbaugh issued a weakly worded apology to Georgetown University law student Fluke only after several sponsors withdrew their advertising from his radio program.
"In this instance, I chose the wrong words in my analogy of the situation. I did not mean a personal attack on Ms. Fluke....My choice of words was not the best, and in the attempt to be humorous, I created a national stir. I sincerely apologize to Ms. Fluke for the insulting word choices," Limbaugh said in a statement.
Despite the thinly veiled mea-culpa, Allred, widely known for her work in the realm of women's rights, takes issue with the timing of the apology and states, "I wonder whether your so called apology may have been motivated by your own economic self-interest given the fact that at least one advertiser has dropped your program because they said that your recent comments 'do not align with our values.' Other advertisers have also withdrawn from sponsoring your program, and more may be considering doing the same."
Article continues below advertisement
Seven of Limbaugh's advertisers have jumped ship, despite the apology, including, Legal Zoom, Carbonite, Quicken Loans and Pro Flowers.
Allred doesn't believe Limbaugh's sentiment, that his attack on Fluke wasn't personal, and says, "your statement was not personal -- really Rush? You want us to believe that you did not regard it as personal to talk about this young law student by purposely targeting her and attempting to degrade her by calling her a slut and a prostitute? Who are you kidding -- it was as personal and obnoxious as any statement could possibly be and it was obviously designed to make anyone who had a viewpoint which was different than yours afraid to come forward and express those views before Congress out of fear that they would be similarly attacked."
In recent days, Limbaugh has said that he is an entertainer, but Allred isn't amused, and lambasts the radio show host who's now on his fourth marriage and says, "You may think that all of your misconduct disappears because you label yourself an entertainer. Well, we are not entertained -- we are disgusted. You think that your non-apology apology coming on the heels of advertisers abandoning your show will make them come back? I guess even some of your advertisers do not find you all that entertaining. We hope that your advertisers continue to show the good sense and judgment that you lack by abandoning your show in droves."
Article continues below advertisement
The letter ends with Allred writing, "Your words, your low blows, your lack of boundaries and judgment will not go away that easily. You cannot wash away the stain that you have placed on your reputation and you may be assured that I for one will continue to point out what you have done to this woman who did not deserve such callous mistreatment. Women see you for who you are. I have received countless emails from women across the country who are outraged and want to do something about you. You may have thought that women would be silenced by your attacks, but just the opposite is true. Women are rallying because we see that your attack on Ms. Fluke is an attack on all of us and on our right to speak out publicly and to stand up for contraception and our reproductive rights. Rush, I know that this all sounds very personal, and it is."