Rush Limbaugh Slams Danica Patrick, 'What Do You Expect From A Woman Driver?'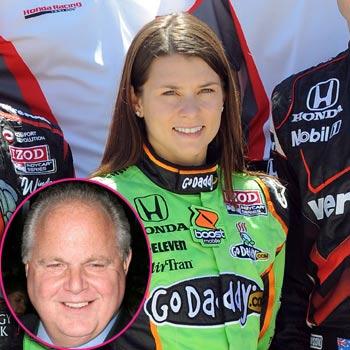 By Debbie Emery - RadarOnline.com Reporter
It's been a bumpy two weeks for NASCAR driver Danica Patrick, and it's not getting any easier thanks to biting comments from conservative political commentator Rush Limbaugh, who dismissed the successful racer as "a woman driver."
Danica's flood of bad karma began when a San Diego sportscaster slammed her with a nasty sexist slur by calling her a "b***h" live on air. Ross Shimabuku of Fox affiliate KSWB went on to say that the 29-year-old former IndyCar driver "always has a chip on her shoulder, trying to prove something."
Article continues below advertisement
Shimabuku later apologized but has paid the price for his comments as on Tuesday the station announced he was suspended without pay for a week.
Next up on the list of events she'd like to forget was Patrick's highly anticipated debut in the rain-delayed Daytona 500 on Monday, during which she crashed her GoDaddy.com car in the second lap and finally finished 38th.
Limbaugh's comments were made in response to Danica supporting the Obama administration's contraception rule, which would have required faith-based institutions to provide birth control free of charge, reported the New York Daily News.