NASCAR Driver Tweets Photos Of Crash Direct From The Track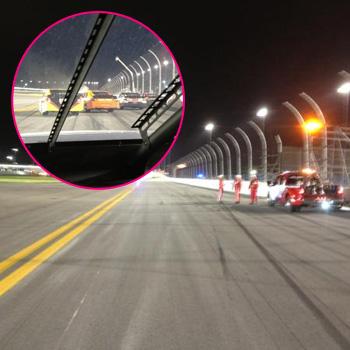 By Debbie Emery - RadarOnline.com Reporter
A dramatic collision between NASCAR driver Juan Pablo Montoya and a jet-dryer truck sparked a spectacular fire on Monday night that brought the Daytona 500 to a screeching halt, and one patient racer bided his time sitting stationary on the track by tweeting photos of the crash.
Brad Keselowski made the most of the two-hour delay by tweeting a picture of the fireball from his cell phone, which was kept conveniently in his racecar, and tripled his number of Twitter followers as they exploded from 65,000 before the race to nearly 200,000, reported ESPN.com.
Article continues below advertisement
The photos of the fireball have since been deleted from Keselowski's Twitter feed.
Fortunately both Montoya and the truck driver were uninjured, and Keselowski became a Twitter sensation by chatting with followers while he enjoyed the unexpected break.
"Time to get back racing, thank you for following!" He wrote when the race finally resumed.
Later in the historic NASCAR competition, the 28-year-old Dodge driver got in a crash himself, and then reached straight for his phone again. "Nothing we could do there," Keselowski posted about a minute after the accident. "Never saw the wreck till we were windshield deep."
As traffic police are increasingly cracking down on texting while driving on regular roads, NASCAR is actually one of the few sports that allows competitors to tweet during professional events in an effort to increase social media, although Brad was quick to tell one fan that he doesn't text while in motion.
Twitter followers love Keselowski's interactive personality and even rival racers get a kick out of his social interaction.
Article continues below advertisement
"That's how Brad is. That's what he makes and what he enjoys," runner up Dale Earnhardt Jr. told reporters. "I thought it was pretty funny."
As RadarOnline.com previously reported, female driver Danica Patrick had a rough start to her first Daytona 500. After being the target of sexist comments from a San Diego sports caster last week, the GoDaddy.com racer crashed her signature green car in the second lap of the race.
The crash also involved huge NASCAR names such as Jimmie Johnson, Kurt Busch and Elliott Sadler.
"I mean, I was pretty speechless," Patrick, 29, said of the collision. "I didn't really know what to say. I just pretty much kept my mouth shut and just sat there. Just breathe."
The Florida-based race, which was initially scheduled for Sunday but was delayed by heavy rain, was eventually won by Matt Kenseth.