Hot Mess! Courtney Love Shows Off Nicotine Stained Nails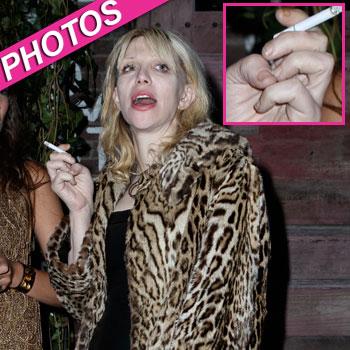 With all of Courtney Love's money, you would think she could afford a proper manicure!
The hot mess Hole singer was out and about in New York City Tuesday night, glammed up in designer duds – but it was her nicotine stained, dirty nails that grabbed more attention than her leopard jacket and leather dress ensemble — and RadarOnline.com has the photos.
The bizarre singer hit the Salvatore Ferragamo Signorina fragrance party, where she was photographed puffing away on a cigarette that was wedged between her dirtied and stained finger-nailed hands.
Article continues below advertisement
RadarOnline.com exclusively revealed earlier this week, that Kurt Cobain's widow is now working closely with Britney Spears' controversial former manager Sam Lutfi, something that has those close to the troubled rocker concerned.
"Everything business related in Courtney's life MUST go through Sam now," a source close to the situation told RadarOnline.com. "Courtney is completely dependent on him for everything, just as Britney was during the time he was in her life. Sam is able to charm his way into emotionally vulnerable celebrities' lives. He can be absolutely charming, but he has a much darker side and it's very concerning that he is now essentially running Courtney's life."